Accounts receivable executives are familiar with the term cash application. In this blog, we will look into what is cash application, why is it important, what makes it complex and how to overcome the challenges of cash application automation.
Cash application is the process of matching customer payments and remittance info to corresponding invoices. Unless this is done and the cash is posted in the ERP system, the funds will not be available for use. Cash application is simple in concept but complex in practice.

What are the elements of cash application?
There are three elements of cash application: Invoice, Payment, and Remittance Advice.
Invoice: The invoice is the document sent to the customer detailing product or service provided and requesting payment per terms and has a corresponding entry in the AR ledger. Invoice document records the money earned by and owed to the company through the sale of products or services on credit.
Payment: Payment is the transfer of funds from the buyer to the supplier. There are many payment methods in business-to-business (B2B) transactions, including paper checks, ACH, wire transfer, credit card, virtual card, and a host of digital payment methods.
Remittance Advice: Remittance advice is the data describing what the payment is being made for. Also known as remittance information or simply remittance, remittance advice is sent along with the payment and includes the invoice number. While the remittance advice is sent with the payment for digital payments, in other modes of payment, this information is sent separately from the actual payment transaction. Customers might send the remittance info in several ways and various formats. These formats could include email, PDF, image file, phone call or web portal.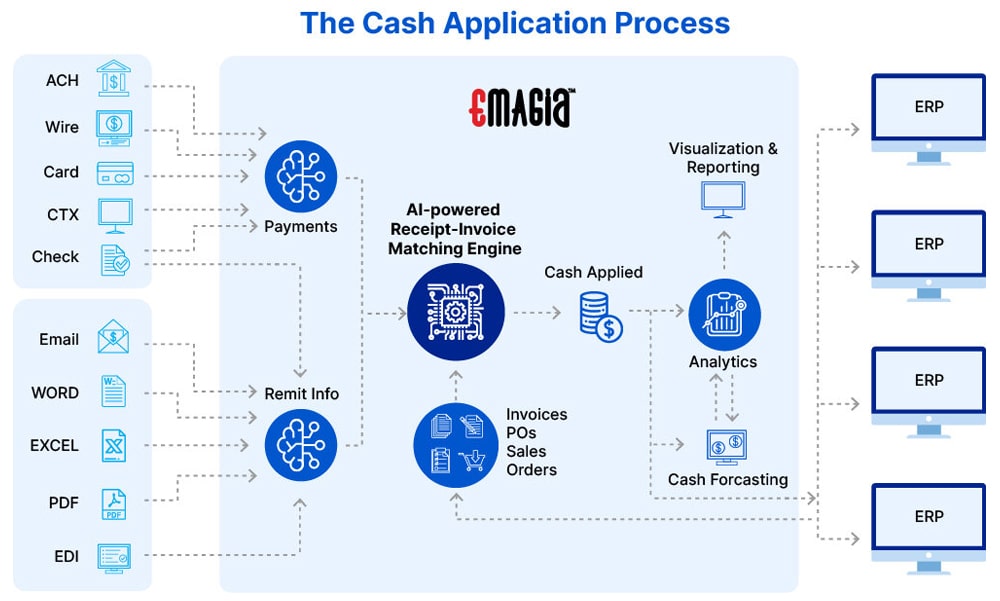 Why is cash application important?
The key elements of cash application are the invoice, the payment, and the remittance advice. Most of the B2B transactions are made on credit. In a typical B2B sales process, the supplier delivers goods or services, expecting payment at a later date. The supplier sets a credit limit for the buyer. When a buyer makes use of the entire line of credit, they can't make further purchases unless the past purchase payments are paid off. If the supplier's cash application process is slow, it delays the credit replenishment for the buyer.
This, in turn, impacts the revenue generation for the supplier. Hence whenever a supplier receives a payment, it's important to "apply cash" to use it back in the business. It's only when the cash is applied and posted against the corresponding invoice, the money received will be available for use.
An efficient cash application process is vital because companies want to minimize the order-to-cash cycle. Fast cash application lowers past due AR and increase the accuracy of a customer's account. Efficient cash application is also important to customer experience. For example, with a poor or slow process, the company's collection specialists may call customers that have already paid. Besides being a waste of time, it reflects poorly on the company and impacts customer relations.
What makes cash application complex?
Cash Application process includes bringing invoices, receipts and remittances coming from multiple sources such as emails, EDI, bank files, lockbox files etc., in multiple formats, in multiple languages and in multiple currencies. Key challenges associated with cash application process include:
Data capture from emails, documents, bank files and vendor portals which is very cumbersome
Matching invoices to receipts is often complex and time consuming involving several rules
Data entry and posting into different ERP systems is very tedious and error-prone
Given the number of payment methods and the remittance information coming in different methods and formats—often in unstructured documents such as PDF, Word, or image files—capturing this information poses a huge challenge in cash application.
Further, while matching, some remittance information might be incomplete, complicating the process and requiring contact with the customer to clarify. A thorough matching process requires reference to other customer information (ex: customer purchase orders or internal sales orders along with invoices). In addition, customer history can provide important clues. These all have required human intervention in the crucial effort to match payments to charges correctly, and they make cash application
How to achieve hyper-efficiency in cash application?
In a growing enterprise, manual cash application becomes unsustainable. Tools including OCR, auto-cash engines, and robotic process automation (RPA) help relieve companies of repetitive and manual process tasks, but their limitations still require much human intervention. With gaining control on cash becoming more critical than ever, AI-powered cash application can help achieve hyper-efficiency.
Cash application and cash posting can be accelerated using solutions such as Emagia AI-powered Cash Application – a cloud-based solution that integrates seamlessly with leading banks, electronic lockboxes and ERP systems such as SAP, Oracle, NetSuite, JD Edwards and others. This intelligent solution leverages automation, analytics and AI to match invoices to incoming payments and remittances that come in multiple data and document formats in multiple languages and multiple currencies.
The solution can empower businesses to achieve 90% and above auto-match rates while drastically reducing the time and effort involved with manual cash application processing. It even automates dispute resolution as well, supported by Gia – Emagia's AI-powered Digital Finance Assistant.
Contact us to know more about how to gain exponential advantage in your AR operations with Emagia Cash Application.