For companies of all sizes in all industries, invoice data capture is a critical procedure. It entails taking significant data from invoices, like the supplier name, invoice number, date, and amount, and then entering it into an accounting system. Business can automate their accounts payable procedures and precisely record financial transactions because of this technique. Effective invoice data capture can help firms save time and money, lessen errors and delays, and improve financial reporting and analysis. A variety of invoice software technologies are available for capturing invoice data. This article will discuss the various approaches for invoice capture along with their benefits and drawbacks.
What is Invoice Data Capture?
Entering invoice information such as the invoice number, supplier name, address, project details, and other crucial elements is known as invoice data capture. Usually, organizations manually compile this data into spreadsheets or paper ledgers. The initial stage of invoice processing for the accounts payable departments is invoice capture. Businesses scan invoices into data that can be used with other apps and enterprise resource planning (ERP) solutions using optical character recognition (OCR). Accounts Payable departments can anticipate that invoice processing will advance by becoming more automated with the implementation of AI and machine learning.
Shorten the Order to Cash (O2C) Cycle with Digital Invoicing & Payments. Download Ebook Now
Challenges in Invoice Data Capture
Some drawbacks in invoice data capture:
Payment delays as a result of the laborious vendor matching procedure.
Ineffective communication between suppliers and vendors.
Communication breakdowns and issues between departments.
Potential for payment mistakes.
Limited visibility: Paper-based invoice administration makes it difficult to share invoice details with colleagues inside the department or with colleagues in other departments.
Limited scalability: Manual handling of invoices becomes challenging, if not impossible, as the size of operations increases.
Types of Invoice Data Capture Solutions
Manual data entry: A person physically views the paper or digital invoice and manually inputs the pertinent information into the corresponding computer application. This is a thorough examination of the manual invoice processing strategy. An advantage of manual data entry is that it is beneficial for small businesses with fewer operations. A few disadvantages would be it is time-consuming, error-prone, and unsuitable for big data quantities.
Traditional or Template-based Invoice Capture:
The greatest candidates for this kind of solution are businesses that deal with a small number of well-known invoice forms. An appropriate use case for these systems is for companies that get invoices from the same group of suppliers. For the extraction and validation of data and information, they can create rules based on templates. Some advantage of using a template-based invoice capture system is that it is little capital expenditure. There is no requirement to coordinate with suppliers and for outsourcing drawbacks. A few of the drawbacks that come with using a template-based invoice capture are that there is a low return on investment due to high mistake rates in the program and the need for support staff. A validation of mistakes and exceptions is necessary, which can cause delays and financial fines.
Cognitive or AI-based Invoice OCR:
Software that uses AI-based OCR for invoices, like Nanonets, intelligently extracts pertinent information from a range of formats and forms. To guarantee a high level of automation and intelligent document processing (IDP), they make use of powerful AI and machine learning capabilities. This contrasts with inflexible methods like zonal OCR.
AI-based Invoice OCR systems recognize critical data even in unidentified documents. This type of software maintains a high level of precision in extracting pertinent data thanks to the ongoing "learning" process.
Some advantages of using Cognitive or AI-Based invoice OCR systems:
Quicker Invoice Processing: On average, data extraction from an invoice using AI technology uses 27 seconds, compared to 3.5 minutes when done manually.
Cost-effective: AI-based data capture only costs a few cents per invoice to process, compared to one to five dollars per invoice for manual processing.
Improving Data Accuracy: To reduce errors that are often connected to manual data capture, AI and ML algorithms recognize invoice data using neural networks.
A Few Disadvantages:
It can be necessary to have some technical knowledge to switch from outdated systems to automated workflow.
It would necessitate a complete overhaul in management and procedures.
Gia Invoicing: Digital Assistant for Digital Invoicing & Payments. Watch Now
Benefits of Electronic Invoice Capture
The classification, extractions, and validation of data from any sort of invoice are automated by an invoice capture program. Using invoice capture comes with its benefits:
Increase the output of the Accounts Payable (AP) workforce: Employees will have more time to devote to high-value tasks that demand human connection when physical labor declines.
Minimize incorrect data entry: Even without templates, anchors, and keywords, intelligent invoice capture can recognize unstructured data, including handwriting and varied fonts.
Process invoices without using a touch: The procedure becomes less time-consuming, paperless, and dependent on human intervention.
Bolster connections with suppliers: Payment delays and needless back and forth for payment updates can be avoided with shorter invoice cycle time.
Lower the price of processing Accounts Payable: the price of each invoice could be lowered since it directly relates to the number of manual touches required.
Spend less on storage: one of the departments that use the most paper is Accounts Payable, which as a result incurs large expenditures for paper, filing cabinets, and storage space to arrange physical records.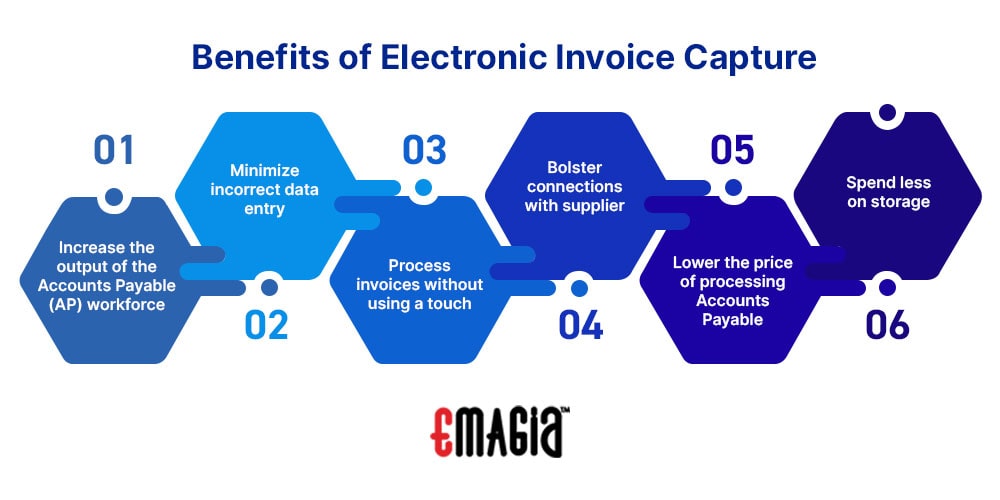 How to Automate Invoice Processing for a More Efficient AR Department
One of the stages in the procure-to-pay process is invoice capturing. You require process visibility, control, and efficiency to achieve end-to-end automation of invoice processing.
Documenting Invoices: without manual involvement, automatically export both organized and unstructured data.
Payment of Invoices: Use digital workflows to process bills; these procedures alert approvers automatically and send their files to them for review.
Integrating ERP: Establish a connection between your AP papers and data and your ERP so you may access crucial data without using a different application.
AP Reporting: To locate process bottlenecks, and increase visibility into performance KPIs including time to payment, time to invoice approval, workload per employee, and more.
Integrating ERP: Establish a connection between your Accounts Payable papers and data and your ERP so you may access crucial data without using a different application.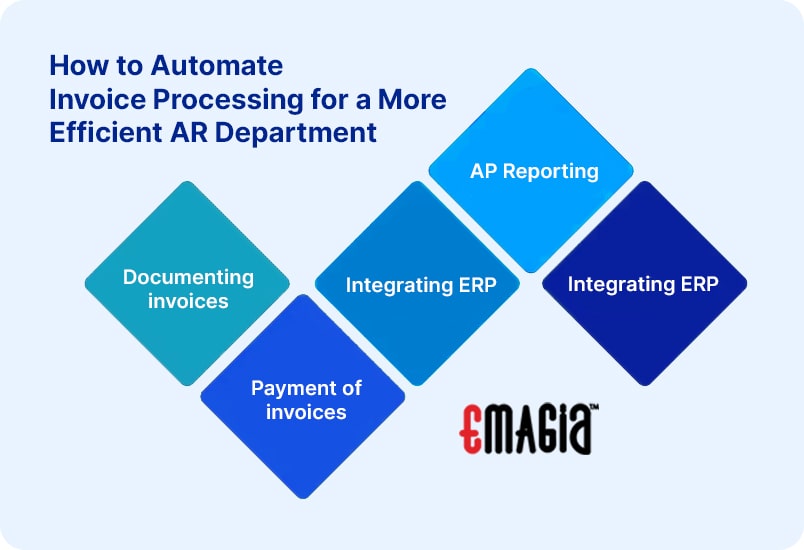 Structured vs. Semi-structured Data
The structure and look of all documents containing structured data are the same. For instance, every student that is taking a test will have the same layout for the fields in the multiple-choice portion. Hence, structured data can be processed by a standard template-based OCR solution with little setup and maintenance required.
Contrarily, invoices are semi-structured documents, which means they share a fundamental structure but can differ in their layout and content. They have many variables like line items, discounts, penalties, dates, and the amount they owe.
How to Invoice Data Capture Help Grow Your Business
By using invoice data capture, you can introduce efficiencies, increase productivity and reduce expenses across departments. An intelligent invoice data capture software can also assist as an alternative. Your business may need a sophisticated OCR invoice scanning technology that automates AP data entry if it wants to successfully reach its goals.
Conclusion
In conclusion, the correct recording and processing of financial transactions by firms rely heavily on invoice data capture. Businesses can automate their accounts payable process and decrease errors and delays by capturing crucial information from invoices, such as the supplier name, invoice number, date, and amount. There are several ways to collect invoice data, including human data entry, optical character recognition (OCR), and algorithms based on machine learning. Based on their requirements and financial constraints, firms should select the technique that best suits them. Each method has advantages and drawbacks. In general, firms can save time and money, streamline their accounting procedures, and enhance financial performance with effective invoice data capture.

FAQs
What is data capture in accounting?
Data capture is taking information from paper and electronic documents and transforming it into useful data.
How do clients benefit from invoice capturing?
Clients do not have to come ready with the project cost right away.
How do you minimize errors in invoicing?
You can create a terms and conditions agreement or create a tracking system.
How do you make sure an invoice is correct?
To make sure an invoice is valid, you can match it with a goods receipt.
Can Excel track invoices?
Yes, you can use Excel to track your payments.