Your business can simplify how it receives its payments from clients and gain access to the cash by using lockbox payment. When corporations use a lockbox service, they set up a unique P.O. box where their clients can mail their payments. Lockbox processing is a practical and effective method for businesses to manage their deposits because it lets them outsource the payment processing and concentrate on other facets of their operations. In this article, we will explore the benefits of lockbox payments in more detail and some of their disadvantages.
What is a Lockbox Payment?
A lockbox payment is takes client cheques using a corporation's designated P.O. Box from a bank. Businesses use lockbox banking so they can accept payments from clients easily. Remittances from the clients are received through this service. They are then sent to a specific post office instead of going to the corporation itself. Lockbox processing allows businesses, that frequently receive payments and documents by mail, cut costs, increase cash flow, and swiftly update their accounting systems.
Simply Lockbox and Remittance Data Extraction With Gia Docs AI. Download Ebook Now
What are the Key Benefits of Using Lockbox Payments?
There are a few benefits that come with using lockbox payments:
1. Increase Efficiency
Businesses can avoid the burden of handling consumer payments, digitizing them, monitoring them, and depositing money by utilizing a lockbox. If this happens, there will be a reduction in labor and an improvement in the business's overall performance.
2. Reduces the Amount of Time
Customers who are nearby will make payments more quickly than those who are far away. The company's cash flow is affected by this. Using several lockboxes in various places where clients can send their checks can assist businesses in achieving this issue. As a result, receiving and processing payments will take less time.
3. Reduces Errors
For many corporations, accounting errors are a big issue. However, when there are many human processes in play, errors are all but guaranteed. Nonetheless, lockbox payments significantly cut down on these mistakes.
4. Improves Speed and Flexibility
Depositing checks can be challenging, particularly after a bank has closed for the day. Banks still handle lockbox payments during regular business hours, ensuring the money is credited to the company's account the same day.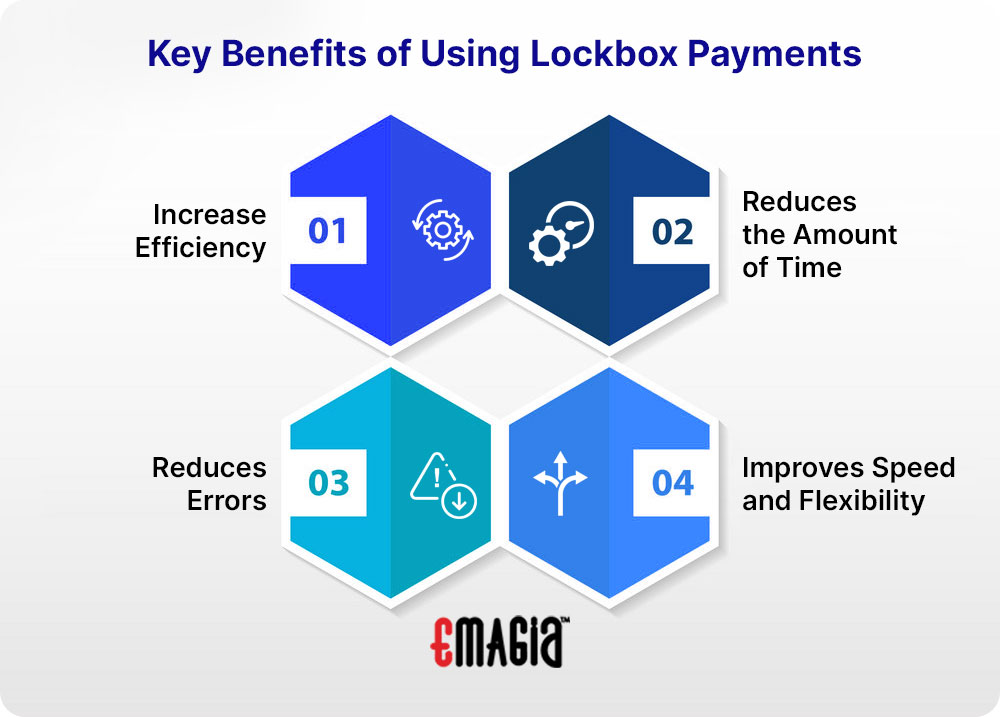 Reduce Lockbox Fees with Remittance Data Capture AI. Watch Now
The Problems of Using Lockbox Payments
Apart from the benefits that come with lockbox payments, they also come with their disadvantages:
1. Inefficiency
Receiving a check through a lockbox quickens the payment procedure. In contrast to electronic methods like bank transfers, and credit and debit cards, it will still be ineffective.
2. Security Issues
Lockboxes can also come with mistakes. When the volume of transactions is high, they are vulnerable to fraud and human errors. Threats to lockbox security have a significant negative financial effect on a company.
3. Extra Expenses
Banks impose the high amount of fees for providing lockbox services. On top of this, there are also monthly expenses. It does relieve the company of its responsibility, and it is crucial to consider whether the advantages exceed the extra costs.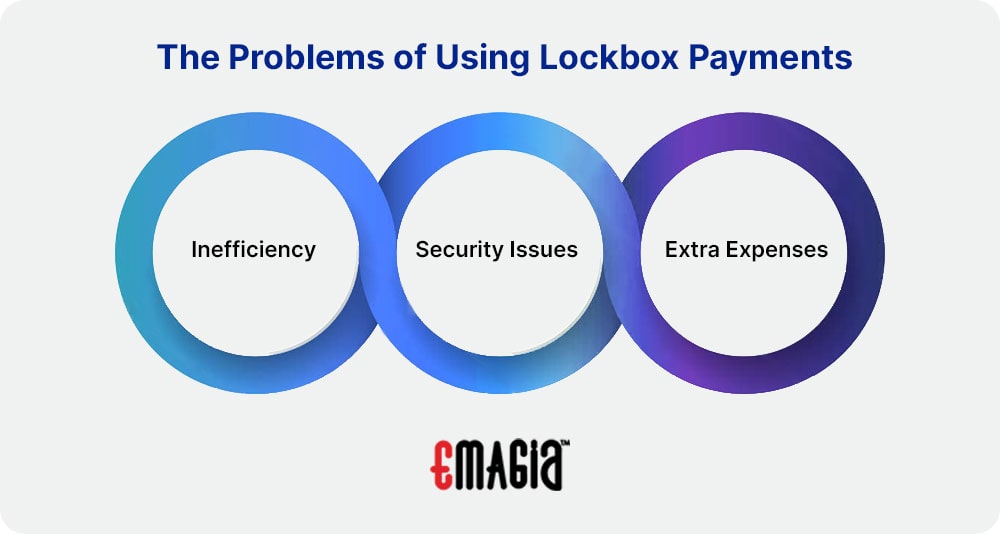 How Gia Docs AI helps Businesses Save Lockbox Key-in Costs
Emagia can save internal processing costs using lockbox banking, quickly transform receivables to money, and speed up collections. It also enables businesses to consolidate payment processing, which helps streamline their bookkeeping and accounting procedures. Corporations with many consumers or locations to operate in may find this very helpful. They can also boost customer service by implementing lockbox banking.
In conclusion, lockbox payments are a practical choice for companies that receive many mail-in payments. Businesses can save time and money by outsourcing their payment processing to third-party suppliers, lowering the risk of errors, and managing cash flow better. When picking a lockbox provider, there are a few things to consider, like cost and security, but the advantages make it worth it. All in all, lockbox payments provide businesses with a practical means to handle all payments allowing them to focus on higher-priority tasks.

Lockbox Payment FAQs
How do Lockbox Services Work?
The bank scans payments and remittance information. Then, they examine the mail and deposits received funds in the business's bank account.
What is the Main Focus of a Lockbox System?
The lockbox system is a cash management system. A creditor asks a debtor to transfer payments to a post office box which the bank then empties.
What Functions and Duties Do Lockbox Processors Perform?
The Lockbox processor handles mail opening, processing, sorting, and keying in the lockbox department.
What is a Lockbox Service in Banking?
Lockbox services facilitate the quick collection of document payments and provide accurate information for updating the receivables records.
Why would a Company Choose to Accept Payments using a Lockbox?
Having a lockbox allows a business to receive, mail, and process payments more quickly. It is not required to schedule a time to visit the bank anymore.