Cash Application Automation
Gain exponential advantages with Automation, Analytics and AI
Reduce Costs and Improve Efficiency on Cash Application
The Emagia cash application software improves cash application efficiency, reduces manual labor costs, and decreases the time between payment and posting. It automates accounts receivable processing and allows users to receive remittance information directly from customers through EDI, Excel, and PDF remittances.
It stores the matching data until the bank confirms that the cash has been received. Using our matching algorithms, cash can be applied using multiple reference data types and organized into four categories: matched, partially matched, unmatched, or unidentified.
Automate Feeds from Lockbox and Banks
Cash application automation often requires input from multiple data sources, including lockbox files, EDI files, other types of customer remittance information, and bank statements. Cash from a single payment can be applied to multiple customer numbers. The algorithms match customers, payments, open invoices, and other transactional information to create cash application files that can update the financial system and that need additional research.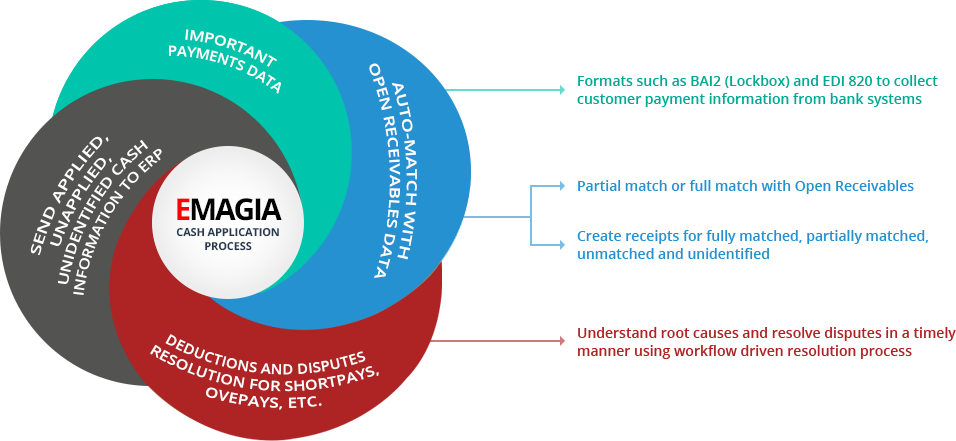 Intelligent Matching and Recommendations for Cash Application
With Emagia's auto-matching engine and recommendations, users experience improved cash applications, more efficient invoice matching, and increased order-to-cash efficiency. This system processes payment data from multiple customers against open receivables data.
A matched receipts file is generated to update the financial record, while unmatched receipts are opened on the workbench with recommendations on partial matches and further research. Dispute tickets can be initiated for shortpays, overpays, and other issues and sent through the appropriate resolution workflow. To increase cash application efficiency, the invoice to receipt matching error tolerance can be adjusted.
Improving Cash Flow Forecasting and Performance
Cash application performance is improved through the automation of matching critical remittance, bank data, and open invoices from multiple sources, improving visibility. Powerful analytics focused on customer accounts, applied and unapplied cash trends, and customer payment trends provide you with the necessary intelligence to create and manage your business's cash flow strategies. The Emagia Cash Application Module allows you to predict short-term cash inflow weeks or months into the future.