Advanced technologies, including AI, Analytics, and Big Data Management, can deliver integrated order to cash automation (O2C automation) across even global enterprises, providing efficiency and real-time unified visibility, improving cash flow for better working capital management, and enhancing customer experience.
CFOs are intensely focused on working capital and know cash is tied up in their accounts receivables and order-to-cash process. The pandemic may have renewed the intensity of focus on cash management, but CFOs have been here before, whether in macro or micro crises.
CFOs need to free cash from inefficient order-to-cash (O2C) processes to pay down debt, invest in product development, or finance strategic initiatives. At the same time, competitive pressures demand enterprises give their customers a better experience.
Enterprises have long sought to automate and integrate O2C for greater efficiency and fewer errors, improving DSO and AR turnover. They have gained improvements through the automation of discrete functions. But structural and ERP system shortcomings have prevented O2C integration, and the limited automated processes have continued to require a significant level of human involvement.
What is Order to Cash (O2C) Automation?
Order to Cash, or O2C, is a process involving various steps— such as order placement, credit management, order fulfillment, shipping, customer invoicing, payment collection, and reconciliation—in the sales cycle. A typical O2C process starts when a supplier receives an order for goods or services from a customer.
Order to Cash automation accelerates various steps involved in the O2C cycle using AI, RPA, machine learning etc. Automating the order-to-cash process eliminates manual processes by up to 90%, frees up staff for higher value-adding tasks, reduces DSO, and improves cash flow. Order to Cash automation helps businesses onboard customers faster, improve revenue and profits.
Shorten the O2C Cycle with Digital Invoicing & Payments. Read eBook
Integrated O2C Automation Replaces Automated AR
Gartner reports that demand for a single, integrated O2C process is replacing demand for AR automation. Integrated O2C platforms combine process solutions with cross-process digital capabilities to offer "hyper automation," which provides much greater efficiency, visibility and analytics that drive actions. Such platforms also enable increasingly personal and collaborative customer experiences.
The combination of APIs, automation, AI, Analytics and Digital Assistants have made such holistic automation possible. Gartner identifies Emagia as one of the providers of the new order-to-cash solutions.
Eliminate Gaps, Elevate Customer Experience
The technologies in these systems include artificial intelligence (AI), robotic process automation, analytics, cloud, and big data management. Joining these technologies in a comprehensive O2C platform enables enterprises to eliminate the gaps between the discrete automated functions and overcome the shortcomings of ERP systems.
The relatively new "hyper-automated" O2C platforms like Emagia solve the issues of fragmentation of vast amounts of data and processes, connecting end-to-end processes with information. They also provide real time reporting and data visualizations.
Crucially, the consequence of these technologies is to enable the enterprise to provide a superior customer experience. As Gartner points out, customer experience is vital to business success in the 2020s.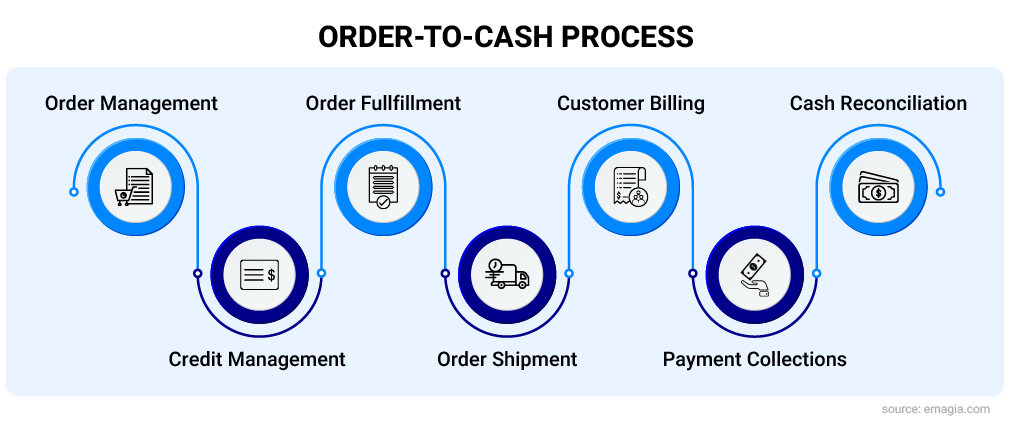 Challenges of O2C Integration: A Vast Sea of Data
One of the challenges in automating an integrated O2C process is the vast amount of data. Large enterprises generally have multiple ERPs or, at the very least different versions of the same ERP. Their incompatibility is a significant problem, but it's only the beginning.
The O2C process is information intensive. In addition to financial data from ERPs, there are essential information flows from multiple other sources. These include in-house systems such as email, CRMs and order entry, networks like Ariba, banks and bank lockboxes, credit bureaus and government websites, and customer portals.
Order to Cash Automation Platform Eliminates the Gaps
With so many sources and systems, companies have had to overcome information and process gaps manually. Manual tasks are slow, monotonous and error prone. However, intelligent APIs and robotic process automation now automate information gathering from diverse sources and systems.
Once gathered, the information must be accessible across O2C applications. And companies need a single global view of all receivables. Order-to-cash Automation Platform providers like Emagia accomplish this through advanced big data management.
Transforming Order-to-Cash with Emagia Global Deployment: The ConvaTec GBS Success Story. Watch Now
For example, Emagia gathers structured and unstructured data into a single finance data lake for operational storage. Its analytics and a full suite of enterprise order-to-cash automation applications sit on top and operate from this data source.
O2C Fragmentation Replaced by Consolidation, Coordination
Data feeds consolidate the data from disparate ERPs in the data lake, along with data gathered by APIs from other sources essential to credit approval, collections, and cash application. Formerly, discrete functions necessarily meant a fragmented process. But with data in a single operational data store, automation applications are coordinated, and through AI enhancement, do more with reduced human involvement.
Because information is no longer isolated and applications are integrated, the left hands of credit or collections can know what the right hand of cash application is doing in real time. And real-time reporting with visualizations, whether enterprise-wide or by region or business unit, keeps executives and staff abreast of statuses even as analytics propose the next steps.
The end-to-end O2C process is finally integrated. This allows a unified view of the organization's AR and cash flow.
Intelligent Technologies Are the Key
Cognitive data capture, robotic process automation, and machine learning replace several manual tasks from data gathering to processing. Accuracy and efficiency improve automatically through AI-based machine learning. Advanced analytics report, predict and prescribe actions, enabling full-picture, data-driven decision making.
Digital assistants support the O2C applications. For example, Emagia's AI digital assistant "Gia" understands and executes more than 100 O2C tasks. While very supportive of internal personnel, Gia is a particularly effective interface supporting customer self-service. Gia prompts customers, answers questions, and guides them to payment.
A Change in Human Involvement
Comprehensive, integrated automation markedly reduces the requirement for human involvement in traditional "work" such as repetitive information gathering, organizing, and reporting. Instead, humans can move to problem-solving and higher-order tasks.
Benefits of Overcoming O2C Automation Challenges
Integrated and hyper automated O2C platforms demonstrate such results as:
Credit decisions in minutes and seconds rather than days or weeks
Current AR of 85 percent or better
Deduction processing in less than a week
85 percent or higher cash auto match
Insights through visualizations and reporting
30+ percent reduction in DSO
40+ percent reduction in operations cost
Customers experience high touch, high accuracy, and 24 X 7 X 365 digital assistance
Advanced automation technology provides cash forecasting and improves cash flow to support working capital management. With a stronger cash position and better forecasting, CFOs can manage debt, invest in product development, and finance initiatives.
From Process to Insight and Strategy
True O2C automation is here. The outcomes of an integrated and automated O2C process indicate the overall direction of finance work in general, which is away from managing process toward monitoring process, providing insights, and business strategizing. In addition, reporting will shift to real time, eventually eliminating the close processes. And efficiency gains will enable finance to shift its focus to the demands of enhanced customer experience and creating strategies for growth.
For more on how Emagia's O2C Automation Platform can move your enterprise forward, contact us.