Digital technology has been around for some time from the days, but those applications including spreadsheets, ERP, and CRM only provided static output based on historical data. The present technology is making automation possible for each business operation and back-office function, thus reducing or eliminating human involvement in various routine, manual, and low-value activities.
The transformation is seen in most industries from e-commerce to automotive, healthcare, and manufacturing to services. For example, the automotive industry is fast reaching a stage where autonomous cars – connected, driverless cars that communicate with surroundings, traffic systems, car manufacturers, insurance, etc, and make intelligent decisions- will be manufactured in autonomous smart factories or factories of the future.
Emerging technologies such as AI, ML, RPA, Robotics, IoT, and blockchain, among others, are making all business operations and processes including Order to Cash (OTC) or a Cash Application autonomous with minimum human supervision and support. Cash application has a substantial impact on cash flow, which is arguably the most critical element in a business.
Key Take Aways
Cash Application in the OTC process have substantial impact on the cash flow of the company
Manual processes in cash application, like in any other processes, are time-consuming, inefficient, and affect cash flow, topline and bottom line
An automated cash application powered by AI, ML, RPA, among others, is inevitable in today's world to sustain and grow your business.
Why is Autonomous Cash Application Important?
In the absence of an effective cash application process in place, you will not know which customers and which invoices are to be followed up for payment and as well which can lead to disputes, affecting your business with those customers. In other words, a poorly managed cash application can adversely affect your cash flow and revenue.
Payment received from a customer cannot be used in the business until it has been thoroughly verified and assigned to an open sales invoice(s). Till this is done, the fund is stuck and cannot be used for working capital cash flow requirements. A wrong flagging of a customer with credit risk based on inaccurate data in the OTC or ERP system can trigger an alert negatively impacting the continuation of supplies. This happens because your accounts show pending invoices even while the customer has made the payment, but not applied.
Challenges of Traditional Cash Application
Cash application, like most processes in business, used to be manual. The standard cash application workflow was receiving checks accompanied by remittance advice with payment details and the AR team verifying the information. matching them with the customer records, and applying against the respective invoice(s). The applied invoices will not appear in any follow-up reports or messages either as pending or as unapplied invoices and payments. But this manual process was taking a lot of time and was prone to errors.
Furthermore, the new payment options, such as credit cards, online payments, and wire transfers threw up further challenges for cash application teams as they have to retrieve transaction data from multiple sources. Areas of other issues include receiving a lump sum payment against multiple invoices without sufficient information or after adjusting deductions on account of shortages, damages, penalties, etc., usually for small amounts, but can add up to large amounts impacting your bottom line.
The Benefits of Automated Cash Application
The AI & ML features of automated cash application tools help you reduce manual and repetitive tasks, facilitating same-day receivables matching and low Daily Sales Outstanding (DSO).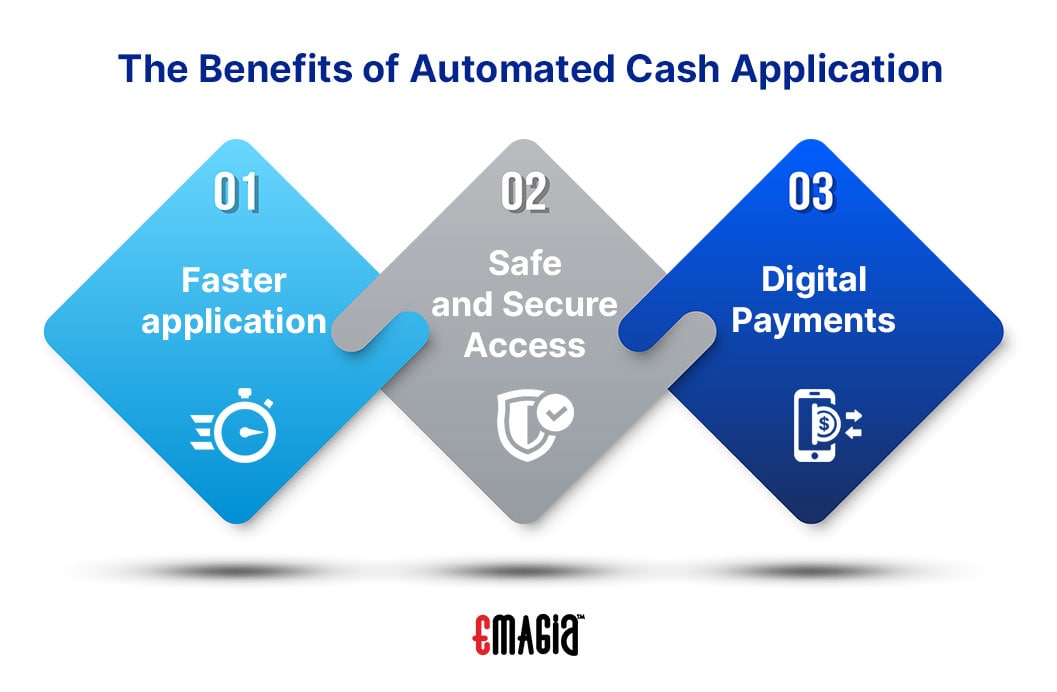 The major advantages of a AI-enabled cash application include:
Faster application: Automated cash application enables collecting data, matching payments to invoices, and applying them into the ledger in a fraction of the time that manual process would take, thus reducing process time, and cost, and eliminating bank lockbox fees.
Smarter application: It will significantly minimize errors and increase accuracy in your cash application process. Technologies such as AI, ML, and RPA can read and recognize your customers' bank information and other details to speed up the cash application process without manual intervention.
Scalability: Cash application software that adopts AI and machine learning will allow your business to stay ahead of these changes, allowing you to scale and grow your business without needing to worry about the increasing amount of payment transactions or the technological changes outside.
Improve Customer Experience and Cash Flow
A good technology-enabled cash application tool should be able to enhance customer experience and improve cash flow. While customer experience impacts improve revenue, cash flow helps businesses sustain and scale. An advanced cash application software will help you by not allowing cash to get stuck, not spending unproductive time on disputes with customers, not holding orders based on incorrect credit risk alerts, and not being left behind in technology to handle large volumes of payment transactions coming through different payment modes. Moreover, the ideal cash application or the OTC system should be able to integrate and communicate with your legacy ERP and CRM.
Next Steps:
Click here to start your free trial
Click here to download Emagia's AI-powered Cash Application Datasheet
Click here to learn more about Emagia's AI-powered Cash Application