By automating and improving the process of matching incoming payments with open invoices, automated cash application software has completely changed how firms handle their cash flow. This sophisticated program automates and streamlines the cash application process using cutting-edge technology like AI and ML, which increases production, accuracy, and efficiency.
The automated cash application software operates by automatically correlating customer payments with the related invoices in the accounting system of a business. It does away with the need for manual intervention, lowering errors and giving accounting teams back vital time. The program ensures a continuous flow of data and information by easily connecting with current ERP systems.
What is Cash Application Software?
Aligning incoming payments with outstanding bills and directing them to the proper accounts for entry is a vital step in the cash application process. This procedure is essential for enabling firms to track capital and cash flow effectively, ensuring timely, accurate, and efficient use of funds.
Cash Application Automation for True Straight-Through Processing
It takes a lot of human effort for your internal accounts receivable (AR) personnel to manually match payments to customers' accounts. Consider using cash application software and AR automation to simplify this procedure and reduce manual labor. These systems streamline the cash application process by automating the reconciliation of payment data, which eliminates the need for manual involvement.
The Benefits of Utilizing AI-Powered Cash Application Software
You can match cash applications to open invoices and align payments and remittances with them, even when the invoice number is erroneous or missing.
Using an AI-powered multi-OCR engine to collect accurate and error-free check remittance information would result in significant cost savings by removing 100% of lockbox key-in fees.
Use automated remittance software and web bots to quickly extract remittances from email content and attachments (such as checks, customer websites, and AP portals) that are in a variety of file formats and languages.
Short payments should be automatically identified and analyzed. Reason codes should be recorded and mapped to relevant ERP deduction codes for smooth processing.
How a Global Medical Supplies Leader Achieved Over 90% Auto-cash Posting. Download Case Study
Utilize the system's predictive capabilities to expedite the settlement of deductions in situations where remittance information is absent or unavailable, minimizing the need for manual involvement.
Automated operations can reduce the requirement for manual customer master data upkeep.
Utilizing custom dashboards that offer a thorough view of the important parameters for gauging the efficiency of the cash application team, analyze and reduce the time spent by cash application analysts addressing exceptions.
Transform Your Cash Application Process
The success rate of your cash application is mostly determined by the match rate. A low match rate can be caused by issues including an expanding client base, a variety of payment options, unconnected remittances, and manual procedures. In the end, this results in a delay in the money getting to your bank account.
Given that time and money are intimately correlated, it is crucial to take into account the financial effects of these difficulties.
The longer it takes, the more it affects both the productivity of your AR team and the credit lines of your customers, ultimately impacting your bottom line. This is true when taking into account the hours spent by your staff manually matching payments to invoices and navigating various customer accounts payable (AP) portals.
It is wise to automate as many labor-intensive AR processing operations as possible in order to increase productivity.
Cash application streamlines the complex and time-consuming process of effectively allocating payments to the correct accounts and invoices for your customers. It does this by employing automation and machine learning. By utilizing these tools, you may increase your match rate and make it easier for income to flow steadily into your company.
Cash Application Automation Key Features
Flexible and Adaptable Matching of Receivables will Improve:
For quicker operations, use the automatic posting and clearing features. Processing of receivables can be scheduled as a one-time activity or as recurring jobs. Adapt the open time and customer matching criteria to your own requirements.
Make use of Machine Learning's Potential to Boost Automation:
Utilize machine learning algorithms to continuously learn from the actions of accountants and then apply what you learn to the processing of the next payments. Automate tedious clearing operations that require a lot of labor and improve accuracy. Give accountants the freedom to concentrate on difficult situations that call for human action while regular clearing procedures are automated.
Extract Pertinent Information from Payment Advice Documents Effectively:
Regions on papers can be intelligently classified to speed up data extraction. Match payments to invoices automatically, avoiding the need for human interaction.
Modernizing Cash Application with the 3As: Automation, Analytics, and AI. Download Ebook Now
Use Your Time to Reach Out to Customers for Payment, Not Remittances.
Automate the AR process to get rid of the need for guesswork. This automation has the potential to increase productivity, improve accuracy, and eliminate up to 85% of manual activities.
Accounts receivable specialists can refocus their attention on risk management and cash collection optimization by adopting AR automation. They get total transparency and control over the procedure, which relieves them of the need to perform time-consuming manual rework and follow up with clients on remittances.
Say goodbye to the taxing process of managing remittances. The cash application process has a history of being labor-intensive, slow, and repetitious, all of which can put a significant burden on resources.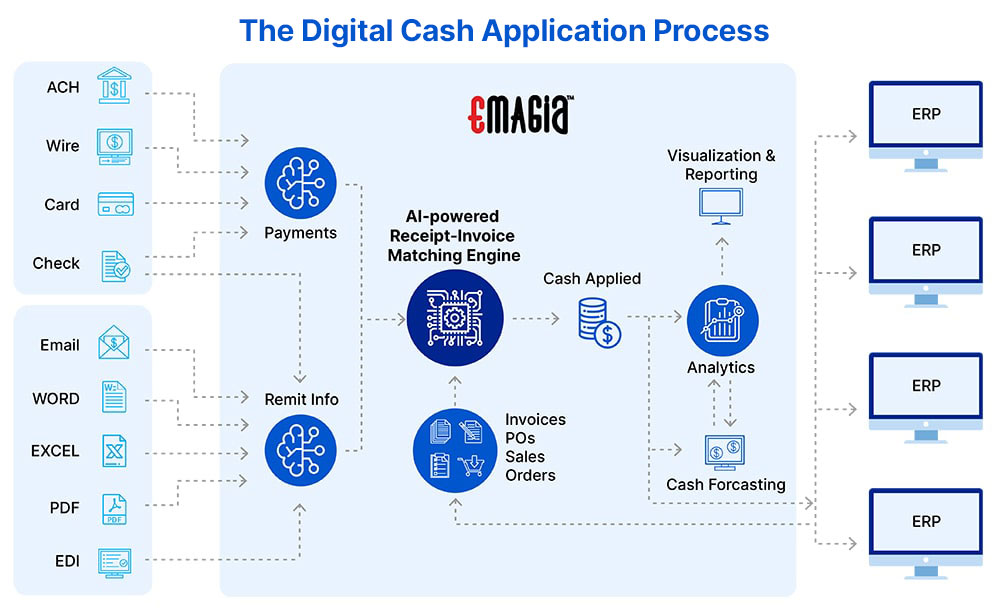 The Benefits of Cash Application Automation
Retrieval of Invoice from Various Sources is Made Easier
Utilize cash application software to save time by collecting payments from a variety of places, including lockboxes, AP portals, emails, and PDFs. These platforms can extract pertinent data such as invoice numbers, dates, and amounts, doing away with the need for human searching and aggregation.
Additionally, AI-enabled cash application software may examine and normalize remittance data that has been formatted erratically, adding structure to guarantee accurate processing.
Automated Payments and Invoice Matching
Utilizing automated cash application to its full potential to obtain high match rates without the need for human involvement. With recent improvements in cash application software, match rates have surpassed 90%.
AI-enabled software may intelligently identify the most likely invoice combinations based on available credits and other pertinent information in situations where a one-to-one match is not possible, such as when payments cover numerous bills.
Furthermore, the software's collaborative features enable you to easily connect with coworkers or clients when you need clarity on how to divide customer payments, As you can make comments directly ohn bills for others to respond to, this removes the need for phone calls or emails, maintaining smooth workflow and reducing interruptions.
Enable Intelligent Invoice Matching Automation
To a sophisticated matching engine driven by the SAP Business Technology Platform, send payment and invoice data from SAP S/4HANA. Automatic information reconciliation is performed by this clever engine, which then either clears any matches or sends them to the accounts receivable team for approval.
Cash Application Automation for Europe. Download Ebook Now
Reduce the number of days sales outstanding (DSO), which enhances cash flow and speeds up collections. Additionally, as operation efficiency are increased, the application of this solution results in decreased total cost of ownership (TCO).
Gain from increased precision and potency in handling chores related to accounts receivable. A coherent and unified environment is created through the efficient integration of SAP, Oracle, NetSuite, PeopleSoft, JD Edwards, Infor, Sage, which streamlines procedures and promotes fluid collaboration.
Fully-Integrated Cash Application Automation
Easily manage a variety of payment channels and ways with our all-inclusive solution. Accept, process, and post a variety of payment methods with ease, including cash, credit and debit cards, checks (RDC), and ACH/EFT. Our secure platform can process payments made through any method, including new ones like AutoPay, as well as conventional ones like mailed-in or lockbox services (either in-house or outsourced).
Utilize integrated receivables technology that is tailored to your specific needs to optimize your cash application processes. Because of the way our system is built, it will continue to be successful and efficient over the long term as your accounts receivable procedures change and adapt. Experience the automation and speed you'll need today and in the future.
With Emagia, an ERP system may be seamlessly integrated, enabling effective and automatic cash applications. Emagia can meet your needs, delivering a streamlined and expedited procedure whether you prefer batch processing or real-time changes.
Emagia automates the posting of remittance info to ERP systems by enabling correct data capture through the use of ML technology. With no need for manual involvement, this guarantees proper reconciliation. Utilize Emagia to improve the speed and accuracy of your cash application procedure.
Conclusion
In conclusion, automated cash application software gives companies a strong way to improve their cash management procedures. This program automates the matching of payments and invoices, which eliminates manual work, lowers mistake rates, and speeds up cash application processes. The software offers effectiveness, accuracy, and real-time visibility into cash application performance with essential features like powerful matching algorithms, intelligent OCR, and customized processes.
Automated cash application software implementation has many advantages. By lowering Days Sales Outstanding (DSO) and increasing cash collections, it boosts cash flow. Additionally, the software improves data accuracy, reduces the possibility of human error, and frees up accounting personnel to concentrate on more important activities. Furthermore, integration features guarantee seamless communication with current ERP systems, facilitating a smooth flow.

FAQs
How Secure is Software for Automated Cash Applications?
Data security and confidentiality are given top priority by automated cash application software.
Can Automated Cash Application Software Handle a Variety of Channels and Payment Methods?
Yes, automated cash application software is made to handle different forms of payment, including cash, credit and debit cards, ACH/EFT, cheques, and cash.
Does using Automated Cash Application Software Require Training?
The majority of automatic cash application software programs are made to be simple to use.
Is it Possible to Integrate Cash Application Software with Current Platforms?
Automated cash application software is made to work in perfect harmony with current ERP systems.
How Does Software for Automated Cash Applications Function?
Automated cash application software automatically matches customer payments with the relevant invoices in an organization's accounting system by utilizing cutting-edge algorithms.