Put Gia to work to speed up your collections against open invoices, proactively send notifications to customers on upcoming payments, collect dispute information, schedule calls with staff, present payment options and process payments while enhancing customer experience. Available 24×7, Gia is like Apple's Siri or Amazon's Alexa but purpose-built for global finance organizations to interact with customers in a highly personalized way.
Bringing Artificial Intelligence to Life
Gia assists finance executives and staff
amplify their productivity and strategic value to their organizations

Gia is an AI-powered enterprise digital finance assistant trained with human-like conversational skills. Gia is self-learning; it learns from every interaction and engages with all your customers in a personalized way while presenting invoice, statements, and payment options.
Gia assists global finance executives amplify their productivity and strategic value to their organizations by performing various order-to-cash operations—including credit, collections, deductions, and cash application—and repetitive tasks as it frees up resources for higher value-add tasks.

According to the April 2018 Forrester report, The CIO's Guide to Automation, AI, and Robotics, "Conversational interfaces have become a key area of investment for many firms, but creating business value with them today can be tricky. Emagia's Gia intelligent agent helps CFOs and their teams retrieve and act upon data from complex enterprise resource planning (ERP) systems."
Why Consider Digital Finance Assistants?
Decision-making depends on accurate, timely information. Digital assistants go beyond providing information. They forecast, prescribe and perform business process tasks, including customer interactions.
AI-powered digital assistants can perform up to 90% of manual operations in a process, delivering enormous productivity improvements. They can help scale operations in global finance departments and shared services centers. With cognitive and human-like smart conversational capabilities, along with continuously evolving job skills, digital assistants can perform specific tasks related to order-to-cash operations while improving accuracy, speed and customer response.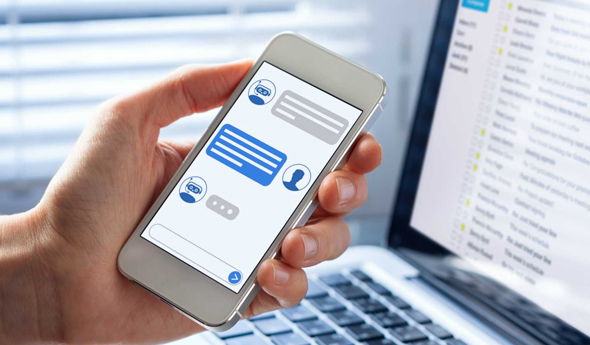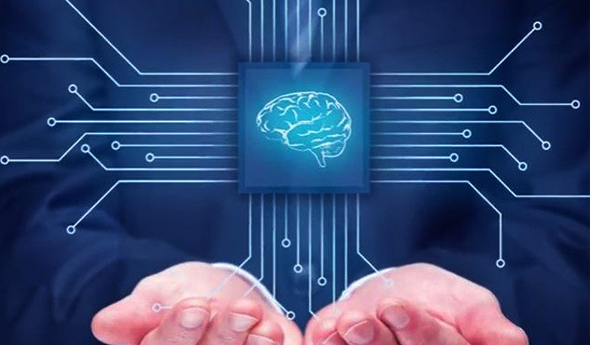 What Makes Gia Unique?
The recent pandemic has been a catalyst for change for nearly every organization. It has accelerated digital transformation across businesses, making them heavily dependent on intelligent tools that provide real-time insights and enhance agility. Emagia's Gia brings together the digital trifecta of Automation, Analytics and Artificial Intelligence (AI) to finance operations to provide quick reporting, smart answers, perform skilled tasks, and make complex predictions.
Gia can drive exponential efficiency in the order-to-cash operations by improving decision-making and enhancing process efficiency to unprecedented levels. Gia can communicate both by Text and Voice and comes equipped with specific skill sets to assist CFOs, Finance Executives, Finance Operations and Shared Services Staff, Vendors, Suppliers, Customers, and Sales Teams.
Intelligent. Intuitive. Insightful
The Most Trusted AI for Enterprise Finance

"AI will transform everything from operations to the customer experience". According to the January 2017 Forrester report, "The Promise and Potential Peril of AI", "AI will be employed across enterprises, doing everything from engaging with customers and employees to automating and improving large elements of the operation. The deployment of AI technologies will create significant value, as companies will be able to predict customer needs in near real time while optimizing operations and supply chains in the background".

Terry Jordan
Collection Manager, Volt Information Sciences
"In our finance shared services, we have to make decisions every day that impact relationships with customers, vendors, and business operations teams around the world. With Gia, we would be able to have information at our fingertips for fast and accurate decisions instead of having to rely on someone for reports. We look forward to leveraging the digital assistants to improve our finance operations in the future."

Veena Gundavelli
Founder & CEO, Emagia Corporation
"We are entering the age of self-driving cars. Enterprise finance operations should similarly become intelligent and autonomous with minimal manual intervention. Our innovations are driven by the desire to create exponential impact in the world of finance – increasing operational efficiency, amplifying human workforce potential, and boosting strategic value to businesses."

Quoc V. Nguyen
VP – FAP Strategy, Conduent, Inc..
"With Gia, finance can now leverage the power of artificial intelligence to perform a number of tasks – from assisting executives with decision support to performing time consuming operational tasks". "Gia is the future of the digital workforce and we look forward to leveraging its evolving capabilities to transform our customer's businesses."
Next Generation Digital Workforce for Exponential Impact
Bringing Artificial Intelligence, Automation, and Analytics to Finance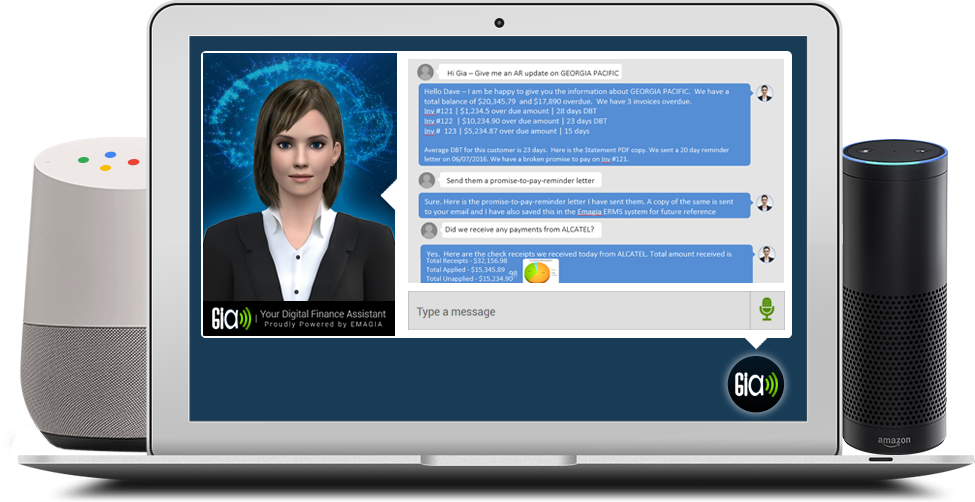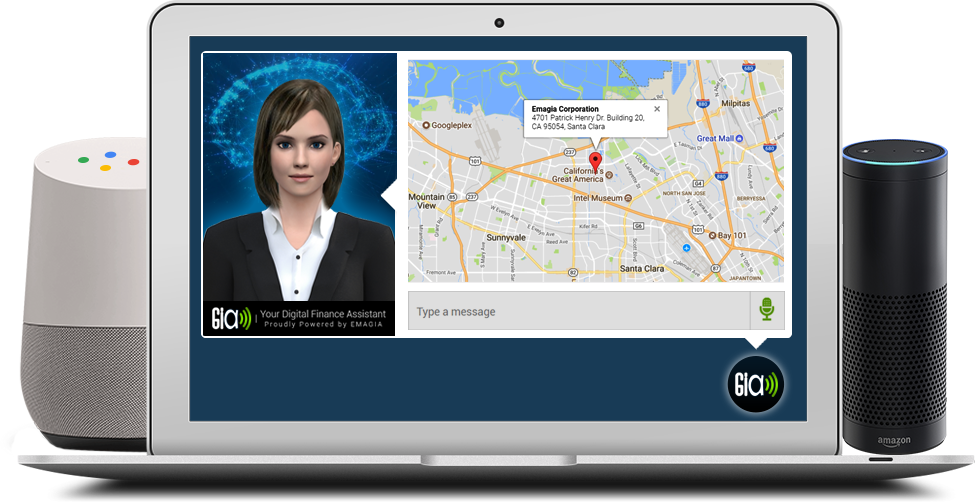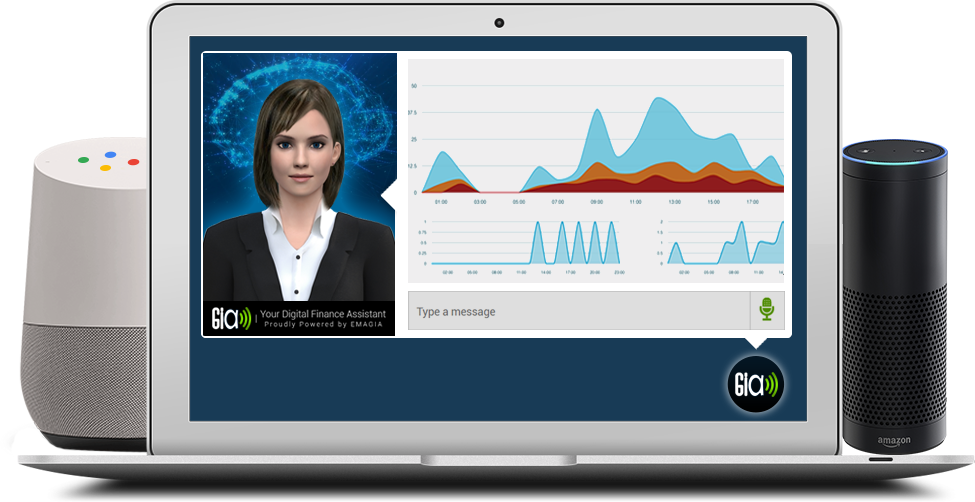 Secure Information
Empowers decision-making by providing real-time financial information from ERP and other enterprise systems.
Skilled Operations
Boosts efficiency by performing human-like tasks using job skills specific to financial processes.
Smart Services
Enhances customer experience by interacting and engaging customers in finance conversations.
Fundamentally Change the Way You Run Your Finance Operations with AI
Enterprise-ready with specialized finance skill sets

Gia for Finance Executives
Enhances decision-making by providing financial information instantly from your enterprise systems and market resources.
Gia for Credit Departments
Boosts customer on-boarding by performing credit verification-related operations rapidly.

Gia for Collections Departments
Enhances collections efficiency by assisting with automated collections tasks and information.

Gia for Billing Departments
Provides real-time access to billing status and alerts.

Gia for Customer Financial Services
Revolutionizes customer experience with meaningful conversations and interactions.

Gia for Treasury Departments
Provides access to cash flow information and alerts on the cash flow forecasts instantly.
Learn from our MasterClass