Intelligent Document Processing is a cutting-edge technology that uses AI and machine learning to automate business processes that involve documents. IDP allows corporations to extract, categorize, and validate data from documents like contracts, invoices, and forms. Over time, corporations have begun to manage their document workflows more differently and efficiently than before because of IDP.
What is Intelligent Document Processing?
Intelligent document processing, also known as IDP is a simple solution for document processing. It extracts any necessary information from financial documents and processes insights for decision-making. IDP can scan structured and unstructured documents with the help of machine learning and AI. With this, IDP allows corporations to accomplish better financial management and excellence.
Intelligent Document Processing (IDP) Workflow
Scanning devices collect data from documents, transform that data into an electronic format, then later supply those electronic copies as input to intelligent document processing solutions. These solutions will use computer vision to identify various layouts from photos, PDF files, and other digital and physical files.
NLP, natural language processing is the technology that is combined with IDP workflows. It also combines them using OCR and reads the document data. It then incorporates it into management systems by using entity recognition, sentiment analysis, and feature-based tagging.
There are 5 Key Steps to an IDP Workflow
1. Document Pre-Processing
Optical Character Recognition (OCR) is involved in this step. OCR is put into use whenever there is a need for the extraction of data. The accuracy depends on how it can identify a word or character in the background. For this process to be successful, binarization, deskewing, and noise removal occur.
2. Document Classification
Identify the format: See if the file is a PDF, JPG, PNG, etc.
Identify the structure: The OCR software has to distinguish between structured, semi-structured, and unstructured documents. Semi-structured documents have somewhat of a structure. They have similar content in various places within the document. Structure documents have a set layout and template already. Unstructured documents barely have any structure. However, corporations still need to get the necessary data from these documents.
Identify document type: We need to see the document type, if it is an invoice, shipping label, bank statement, etc.
OCR vs RPA vs Gia Docs AI: Which is best document processing approach for supply chain logistics? Read Blog
3. Data Extraction
There are two ways to go about data extraction: key-value pair extraction or table extraction.
Typically, OCR is the first step for data extraction.
Rule-based extraction: This is for semi-structured and structured documents. They can find key-value pairs in a document.
Learning-based approach: Deep learning and ML-based OCR-hybrid data extraction approaches need supervised and unsupervised learning. The accuracy rate gauges how effective these models are. The model's accuracy improves as more documents are processed as more feedback is given.
4. Data Validation
This is a crucial step to identify any errors in the data that will extract later on. The document uses some validation rules to find mistakes. For example, in an invoice, the "total amount payable" needs to be equal to the sum of the "subtotal" as well as the "tax payable." If these two do not match, the invoice will eventually get flagged and inspected.
5. Human Review
Data extraction is not always correct. For this case, any flagged documents will be reviewed manually. This will help better the data extraction model for future use.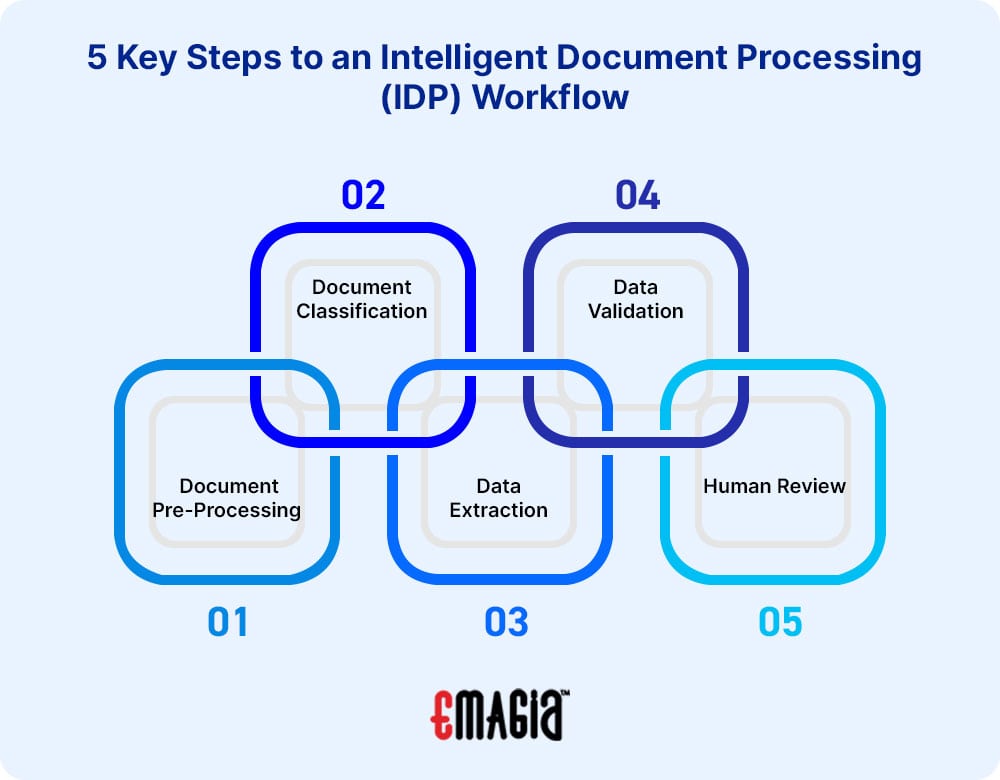 Intelligent Document Processing Use Cases (Capability by Industry)
IDP is used in Many Types of Industries:
Gia Docs – Intelligent Document Processing for Logistics and Supply Chain Companies. Read Blog
Lending
Lenders use IDP models to assess the credit risk of their borrowers. IDP can reduce the amount of manual data entry necessary to process loan applications, guarantee quicker turnaround times, and will provide lenders with time to analyze.
Insurance
The insurance industry uses IDP to handle vast amounts of customer data and to perform credit profile analysis.
Logistics
A lot of exchange in data occurs in the logistics industry. All this information has to be authenticated, verified and double-checked. For contractors at the supply chain level, IDP solutions are handy for businesses to send labels, agreements, and invoices to them.
Commercial Real Estate
IDP is prominent in real estate for ren roll processing, lease agreements, and T12 statements. It is also common while looking at market rates for finding a profitable investment.
Accounts Payable
An automated accounts payable solution can handle invoices with various layouts and structures and can instantly conform them against purchase orders.
What is the Role of the Document Processor in IDP?
The documents that a document processor receives have to be reviewed for mistakes and make sure everything is accurate. The document processor typically requires attention to detail. For example, to decide whether to approve a loan or not, a mortgage loan underwriter analyzes and evaluates the application. The document processor's responsibility is to see if the necessary paperwork and any information related to mortgage applications are accurate.
Evaluating Intelligent Document Processing: Is it right for you?
IDP is a solution that uses computer vision, OCR, and machine learning. These tools improve comprehension of a document that contains unstructured data, in the data integration process.
Key Benefits of Intelligent Document Processing
Less manual labor: Having AI for document processing, allows things to happen much faster and more efficiently. This way, people can focus on higher-priority tasks for their business.
Inexpensive: IDP is a very low-cost tool and alternative which allows services to be accessible to customers more quickly. If international companies use AI for translational purposes, customers can read the document and report their needs to their stakeholders.
Better customer experience: With IDP being a very efficient and quick process, the ability to respond to customers will automatically be quick as well.
No human error: Mistakes happen and eventually add up. Financial departments claimed that $878,000 is spent annually just for calculation errors. To avoid this, IDP decreases the number of errors by a vast amount benefiting the company and its customers.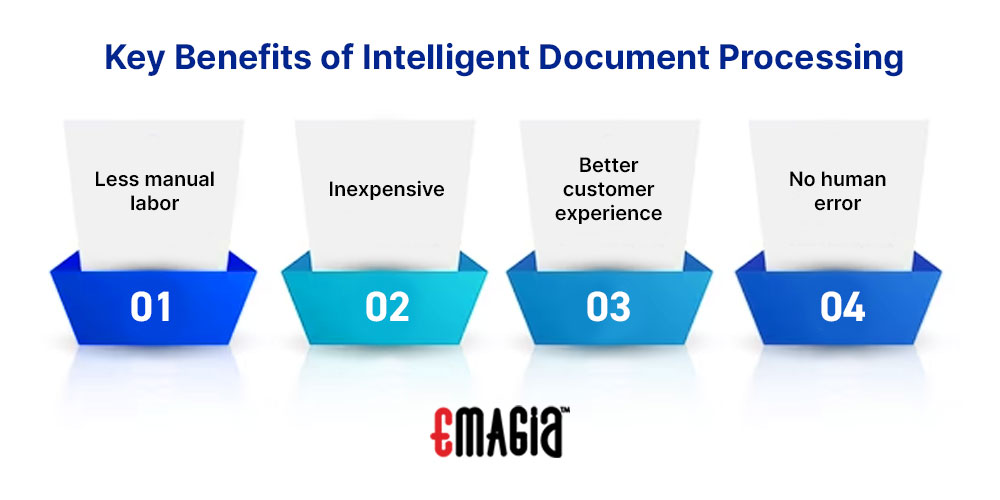 Why Should Businesses Use AI-powered IDP?
There is a lot of pressure in the intelligent document processing market for corporations to improve their customer satisfaction and performance. Due to this, these companies will want to make their document-driven operations move at a quicker rate without sacrificing their quality.
Thanks to IDP, companies can correctly extract, classify, and validate their data from a range of documents. This technology has become revolutionary and is effective to many organizations globally.
IDP Related FAQs
How Accurate is Intelligent Document Processing?
IDP and data extraction has a 99.9% accuracy rate.
What is OCR vs IDP?
OCR can read a document and transform it into a digital form. IDP uses AI to read a document and extract necessary information from it.
Why use IDP?
IDP saves a lot of time and very simply deducts a very tedious process.
Why is Document Processing Important?
IDP contributes to the overall success of a company by optimizing and enhancing key processes.