Why CFOs need to pay attention cognitive data capture AI?
Cognitive data capture AI is a data capturing method based on neural networks to recognize and classify the content within a document. Cognitive data capture uses artificial intelligence (AI) to mimic the human brain to recognize, process, and store and retrieve data without sticking to any predefined set of rules.
A large medical device manufacturer and distributor with global operations, recently stated problems with their document processing impacting cash flow and business performance. The company has thousands of documents inbound in 40+ languages – invoices, remittance files, lock box images, check images, bank statements, resale certificates, claims, receipts and many other documents – all coming in different languages in several formats from various external sources – customers, vendors, banks, shipping and supply chain partners. Several data entry clerks have been supporting from shared service centers and outsourcing providers in Spain, Philippines, Argentina, China and other countries. Incoming remittance processing alone is costing few hundreds of thousands every year. Cash posting is slow and impacting the working capital cycle.
This current state of finance document processing, in most companies – large and small, is expensive and is not scalable for business growth especially if the front office goes digital. Standard OCR and robotic Process Automation (RPA) do not yield much results here as RPA bots typically work well for repetitive tasks on documents that come in fixed formats. Especially with the pandemic and the current work-from-home conditions, the growing document processing problem has compounded drawing attention to the need to new generation tools.
According to Deloitte's Finance in 2025: Eight Predictions – the future of finance operations is touch less, data-driven and intelligent finance factory driven on the foundation of digitizing large volumes of structured data from systems and unstructured data from documents. CFOs figuring out how to position themselves to add maximum value in the future should start now, which requires an understanding of how best to create value in a digitized economy, according to Matt Soderberg, a principal with Deloitte Consulting LLP, speaking on a Deloitte webcast, Finance 2025: Understanding and preparing for the future of finance.
Touchless Document Processing: AI revolutionizing Finance
AI is becoming prevalent all around us in our every day life and in our business operations. At Emagia, we also see the future as touch-less document processing in enterprises and are focused on delivering innovations that bring cognitive data capture AI capabilities modeled and fine-tuned for finance operations – accounts receivable, payable and treasury. Disrupting the document processing cycle time to near zero, offers exponential efficiency and scalability to the back-office processes. Imagine smart systems that are able to read all the financial transactions related documents and are able to eliminate manual data entry or manual copy paste. It's, no doubt, ambitious but touch less document processing is not far away to becoming a reality as we advance in the age of AI.
The questions finance executives should ask – Can AI digitize the complex data capture processes in finance and provide data accurately – scan any check or invoice or remittance or lock box image, read the document, understand various formats, interpret the financial information, index and tag the meta data, organize the files and do data entry into a financial system? Can AI understand unstructured documents and images? Can AI understand finance terminology and interpret it the right way? Can AI understand different languages? Can AI with high scale big data and cloud computing deliver the power to process thousands of documents in seconds? Can AI make that leap to match human staff's data capture accuracy? What is the art and science of possible?
Gia Docs AI: Hyper efficient Document Processing for Finance
Gia Docs from Emagia is a purpose-built AI for enterprise finance – a self-learning document processing assistant with vision, voice and finance intelligence skills.
Gia Docs AI uses a combination of deep learning, neural networks, intelligent optical character technologies, natural language processing and other AI/ML technologies. It has been trained with very large volume of finance related document samples to reach reasonable levels of accuracy in reading. Gia Docs AI is now able to classify, read, extract, interpret and organize data from checks, remittances, invoices, lock box images and statements from many banks with accuracy levels. Gia Docs AI uses several validations that are finance domain specific and our unique enhanced validation algorithms to drive higher levels of accuracy in these specific types of documents.
It is learning continuously with every document it reads. Human staff allocated for validated can review the document data that is marked up by Gia Docs AI for high and low accuracy. Corrections made by the validation staff is continuously used to improve the self-learning data extraction algorithms used by Gia Docs AI, thus involving humans-in-the-loop validation. Training Gia Docs AI for high accuracy is an essential part of the implementation activity as well as the ongoing activity of providing corrective feedback to the system.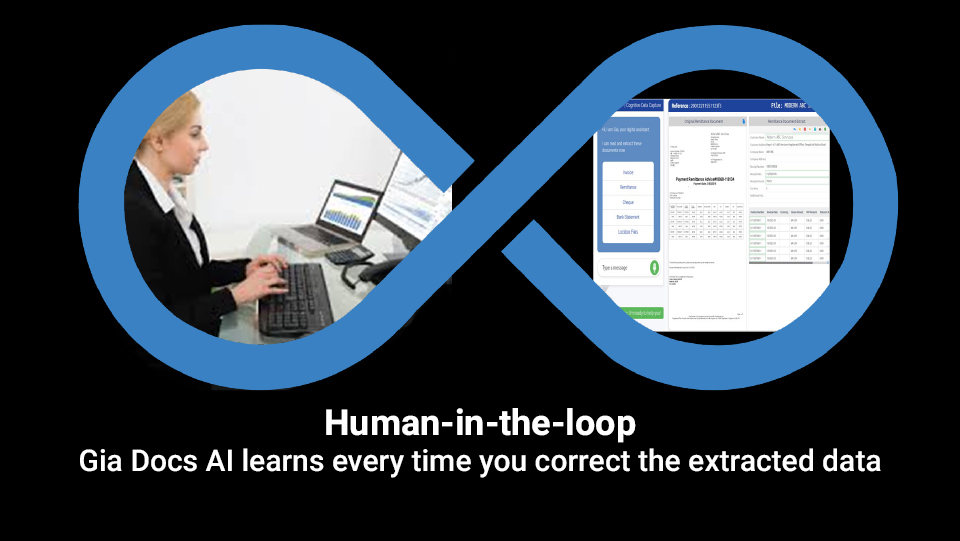 Gia has also been trained on conversational AI and voice with several thousands of finance conversations to understand search requests and the entities related to these documents. Simply ask Gia to search for checks from customer ABC, Gia will search from million of documents and present them to you instantly. Gia Docs AI is now available in Emagia Cloud. Simply upload your documents and Gia Docs AI will provide a neatly extracted CSV files and display for human-in-the-loop validation. Process thousands of files in minutes. APIs are available to integrate easily with enterprise resource planning systems like SAP, Oracle, Netsuite and others.
The Game Changing AI Advantage
Gia Docs AI can deliver significant savings in processing time and costs giving the advantage of hyper efficiency in finance operations. Accuracy levels on data extractionon remittances can exceed 90% and thus can enable you to free up manual data extraction efforts significantly. Especially during COVID times, Gia Docs can be a great tool to boost your operations efficiency. Try our free limited access version Gia Docs for accounts receivables teams.

As CFOs consider digital transformation in 2021 and beyond, it is important to understand that enterprise finance operations of tomorrow will look way different as they are empowered with Cognitive AI tools. Get an assessment of the savings your finance organization can benefit using cognitive data capture AI and guidance on how to include this bottom-line booster in your digital transformation plan.
Learn more about cognitive document processing for finance and lead your teams with confidence. For more information, check out Gia Docs AI, customer case studies and benefits. More in Emagia Master Class on "Driving exponential efficiency in cash application with AI".