Is the cloud too risky for accounts receivable (AR) management? Should I continue to wait for IT resources? Or should I take advantage of a modern cloud-based integrated enterprise receivables management solution? These are the questions on the minds of many finance executives focused on modernizing their AR function. Read this blog for an insight into good AR management practices in the age of AI-based cloud.
What is Accounts Receivable Management?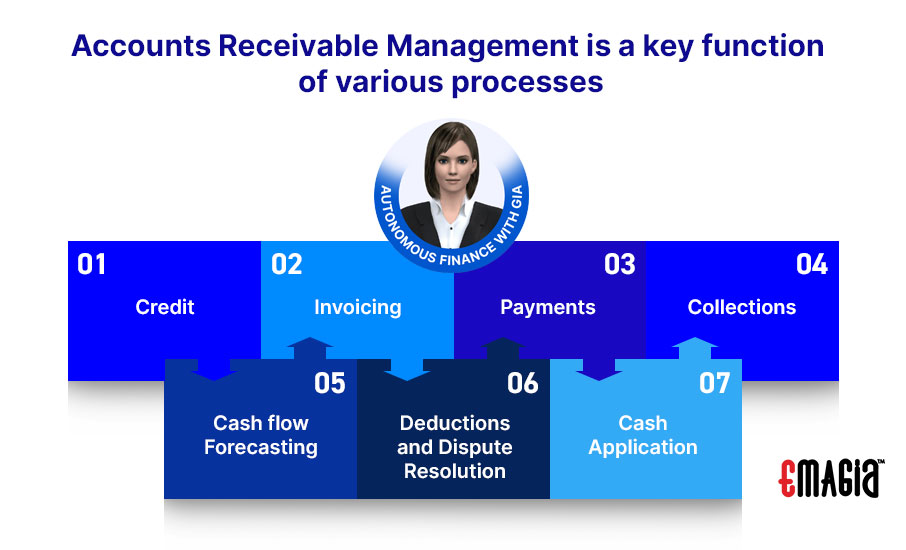 Accounts receivable management is a key function in most businesses. It consists of various processes including credit, invoicing, payments, collections, cash flow forecasting, deductions and dispute resolution, cash application etc. Good AR management ensures payments owed to the company are collected on time. It also ensures timely cash flow and working capital, minimizes bad debts, improves customer relationships and reduces the number of follow-ups from staff. A well-managed, efficient system nurtures lasting customer relationships while boosting revenue and profitability.
Accounts Receivable Management in the Age of AI-Cloud
According to a Gartner story, one in every five finance organizations plan to use the cloud for accounting operations and analytics. The study reveals a significant jump in the adoption of the Cloud and Software-as-a-Service (SaaS) in finance departments. It is no surprise that Oracle, SAP, NetSuite, Workday and many other enterprise financial apps vendors have reported a rise in the adoption of their cloud-based financial applications.
High-performing finance teams are leveraging cloud technologies where the impact is most immediate, the business problem is well-defined and requires short time to value. Many transactional processes that require specialized point solutions to augment their ERPs are moving to the cloud rapidly.
Whether it is reducing the Days Sales Outstanding (DSO), mitigating credit risk or decreasing human resource expenses, it makes good business sense to have a discussion with the CIO of your organization about cloud solutions.
The risks of data security are much lower than the risks of maintaining a status quo on an outdated receivables management system. What Amazon, Google, HP and other cloud providers are providing today for security and scalability in their public clouds outbeat most private enterprise networks.
Key Drivers of Cloud Adoption in Order-to-Cash Transformations
Here are some of the factors driving cloud adoption in the order-to-cash transformations:
1. Respond Rapidly to Business Model Changes
Most businesses are witnessing significant changes in their business models to stay competitive. Cloud-based accounts receivable automation management platform that includes credit and collections management has faster deployment cycles and provides quick and tangible wins on cash flow performance.
On-premise and ERP-based solutions deliver slower and often lower performance improvements. They require more IT resources, longer time for deployment and higher budgets for maintenance. Switching over to cloud can help businesses to quickly respond to market changes and deploy upgrades faster thereby making way for a more efficient accounts receivable automation.
2. Align IT with AR Department on Modernization
Gaining IT priority is one of the biggest issues for new system implementations or upgrades in the AR departments. Many businesses have realized that their customized ERP or advanced collections modules of their ERP or any on-premise systems implemented in '90s are outdated.
Upgrading these legacy systems can be costly, time-consuming, and often difficult to gain IT priority. Migrating to modern cloud-based financing and accounting SaaS solutions, for better productivity features, better user-experience and better financial performance – all without any major IT support – is a great alternative.
Moreover, with the current global uncertainty bringing Accounts Receivable (AR) back into focus for businesses, many businesses are adding intelligent AR management tools to optimize their cash flow and working capital. Cloud-based AR management platforms act like a plug-and-play tools to enhance productivity, profitability and customer experience.
3. Reduce Capital Expenditures
Cloud solutions are often pay-as-you-go model, which gives a huge advantage for finance organizations that do not want to deal with high capex costs. Cloud-based Order-to-Cash (O2C) solutions are proliferating rapidly in mid-size companies as their CFOs and CIOs are leveraging the time, cost, and scalability advantages of the cloud.
Large organizations also understand that the huge license and maintenance costs of their on-premise solutions can be replaced with significantly lower monthly subscription fees of cloud solutions which deliver the promise of continuous innovation.
Put Emagia Cloud-based AI-powered Order-to-Cash Automation Platform, Enterprise Resource Management System, to drive exponential efficiency in your order-to-cash process.
Emagia Edge in Cloud-based O2C Solutions
Emagia's AI-powered Enterprise Receivables Management System is a cloud platform for mid-size to large, global companies and their shared services. Emagia transforms the order-to-cash process by leveraging Automation, Analytics and AI to next generation hyper efficient digital receivables process. Emagia's O2C process includes digital credit, digital invoicing, digital payments, digital collections, digital cash flow forecasting, digital deductions, digital cash application, customer EIPP portal, digital assistant Gia with over 6 personas, digital document data extraction, digital data lake with deep and advanced digital O2C analytics.
Emagia has over 15 years of proven track record of delivering world-class performance in order-to-cash operations for global businesses and has processed over $850B in receivables, in over 90 countries, in more than 25 languages, connecting a network of over 170 banks, with over 120 financial systems, and processing global payments in over 135 currencies.
For more information on how you can leverage Emagia's cloud-based order-to-cash automation solutions, ask for a demo