Cash application automation for Europe is a challenge because cash application for European operations is significantly more complex than in the USA, especially for Shared Service Operations that serve multiple economies in greater Europe.
Why Cash App Automation is a challenge in Europe?
Some of the reasons for the challenges behind the cash app automation in Europe include: multiple currencies and languages, integration with multiple ERPs, utilization of multiple banks, variation in banking regulations and operations across different countries, accommodating digital payments, maximizing remittance information from customers' vendor portals, and Customer Electronic Invoice presentment and Payment (EIPP) portals.
Modernization is the Key

Modernizing the cash application can enable businesses to address all these challenges and achieve a high auto-cash hit rate. AI-powered document data capture tools and digital assistants can perform up to 90% of the manual operations in Cash Application, generating exponential gains for businesses.
Artificial Intelligence powered digital technology and the proliferation of new digital payment modes have made rapid progress in the past couple of years and can help meet the challenges of applying cash in Europe.
Data Capturing with AI
AI-driven Document Data Capture Assistants can extract most payment and remit information accurately from a wide range of formats and sources: EDI, paper documents, scanned images, emails, vendor and Customer Care portals, and the new Digital payment methods (Stripe, PayPal, Square, etc.). They can deal with a wide range of languages, currencies, and banks. This has historically been the greatest obstacle to automating Cash Application: dealing with the wide variation in format, presentation of data, etc. of Remittance Advice.
AI-powered digital assistants can apply cash with "hit rates" of above 90%, as well as create deductions. Overall, they can perform 70 to 90% of the manual operations in Cash Application, producing exponential productivity.
Using AI in cash application, businesses can:
Eliminate manual lockbox remittance, payments data entry and document handling
Automate matching and posting straight through invoice-to-receipts
Automate deductions processing and resolve them through workflow
Access self-service digital portals with voice and chat bots
Reduce bank fees and the associated manual activities
Improve customer satisfaction and build customer loyalty
Demonstrate success with reliable cash flow, which can be used as working capital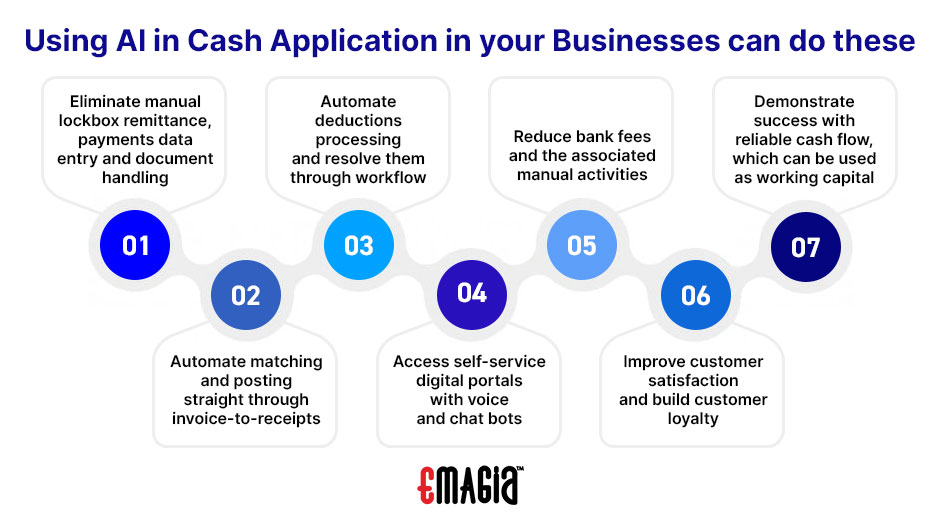 Customer Success: Achieving World-class Cash Application Performance
Learn how a global medical supplies company is using Emagia AI-powered Cash Application in their global AR operations to achieve 90% and above auto-cash posting.