AR AUTOMATION
Modernize Your B2B Accounts Receivable Operations
In the current digital era, it is more important than ever for your company to have a modern and efficient B2B accounts receivable process with a self-service customer EIPP Portal. There are many benefits with a self-service customer EIPP Portal including increased accounts receivable efficiency, improved cash flow, increased customer satisfaction, and reduced operations costs.

e-Invoicing

e-Payments

AI-Assistant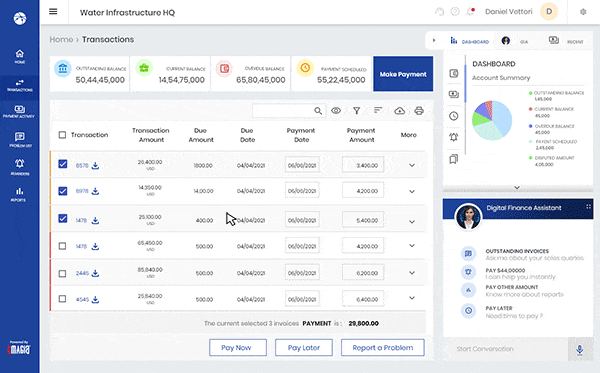 DIGITAL PAYMENTS
Enable Faster and Frictionless Global Payments
Give advantage of the 150+ digital payment options to your customers around the globe. Enable low cost and smarter domestic and cross-border transactions processing options, making it easier and more convenient for them to do business with you.
e-INVOICING
Boost e-Invoicing with Speed and Scale
for Your Global Operations
Digital invoicing is revolutionizing the way businesses handle their finances. By automating the process of presenting and sending invoices, your business can boost the AR efficiency and save time and money. With digital invoicing, your business can scale your AR operations quickly and easily, without having to worry about the hassle of paper invoices.
CUSTOMER EXPERIENCE
Provide The World's Best B2B Payments Experience for Your Customers
Enable the most customer friendly portal supporting over 25 languages and augmented by the World's best digital finance assistant AI. Gia is specifically trained in natural language processing to help your customers 24×7 in their payments journey with your company. Your accounts receivables team can always provide the best customer service with Gia and can be available to help directly if they need any inperson interaction.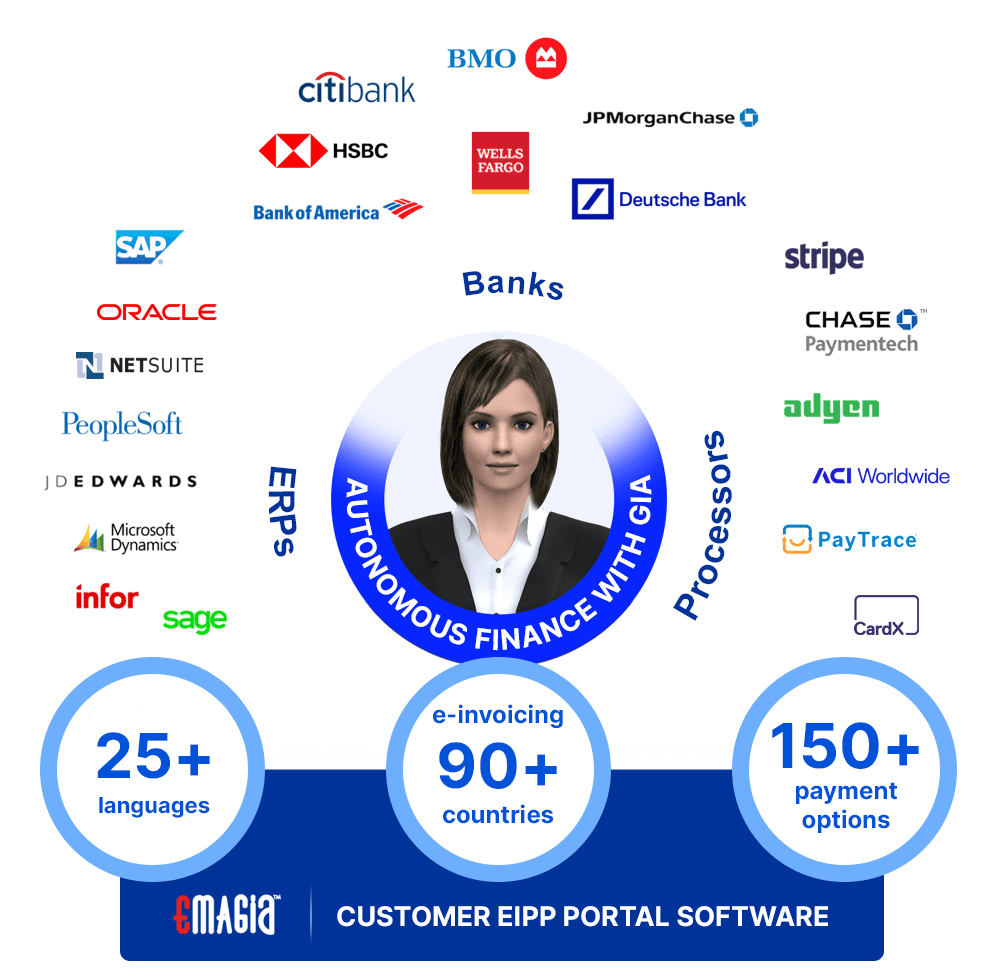 INTEGRATIONS
Integrate with Your ERP Systems, Payment Processors and Banks Seamlessly
Empower your customers globally with self-service digital payments and boost your cash flow from receivables. Connect your ERP with leading payment processors and banks seamlessly. Emagia EIPP Portal Solution provides this connectivity along with 25+ languages, 150+ digital payment options, e-invoicing for over 90 countries, digital finance AI assistant 24×7 and one stop customer payments portal for your business.
Why Emagia
Your company-branded Customer EIPP Portal in Just Days
Enhance the customer experience on the portal with your brand theme
Designed for easy deployment for multi-brand global enterprises
Embed portal link on your website
or e-Commerce portal easily
Easy-to-deploy
and Global-at-the-core
25+ languages for localized user experience
90+ currency formats for over 150 countries
Supporting over 150+ payment methods
API integrations with leading ERPs, CRMS and e-Commerce systems
Simple and Frictionless Customer Onboarding Functionality
Automated email campaigns to drive customer portal self-registration
Embedded customer portal links in all customer correspondence
Safe and secure multi-factor authentication for onboarding
Robust e-Invoicing Capabilities
for Global Enterprises
Multi-brand invoices presentment made easy with templates
Seamless account information data loads from ERP systems
Automated invoicing via emails, customer portal, AP portals mails and fax
Secure and Flexible
Global Payments Options
Accept ACH, credit card, virtual cards and over 150+ localized payment methods
Tokenized secure payment options embedded in emails and customer portal
Robust payments orchestration done across various payment gateways
Reduce Payment Processing Costs and Gain Significant Savings
Use direct bank payments and eliminate credit card processing costs
Enable chargeback fees option to customer to eliminate charges
Use Level III information to reduce processing time and costs
Easy-to-use & Enhanced Customer Experience with AI Assistant
24X7 customer support with smart digital finance assistant AI, Gia
Answers queries on all AR questions
Smart alerts and manage customer payment behavior
Two-way Customer Communication with AR Teams
Receive inquiries from customers directly on the portal for AR teams
Enhance customer support on escalations with live links and chats
Easy Dispute Resolution
and Claims Settlement
Easy way to report issues and discrepancies on invoicing
Enhanced customer support on tickets and claims processing
One Stop Access
to all Account Information
Download and print statements, invoices, shipping, BOL/POD
Access all history related to payments, disputes and account related information
Suggested Blogs
blog
Why is the Customer Payment Portal Essential in the Digital era?
blog
What Your Customers Expect in Your Enterprise Customer Payment Portal
blog
The Key to Facilitating Faster B2B Payments
Transform Your Order-to-cash Global Enterprises
with Emagia AI-powered Cloud Platform
Cash Application
Gathers data on all payments and remittance information from various sources and accelerates cash posting directly into the ERP.
Credit Risk Management
Automates the credit management process with digital applications & approvals, helps onboard customers faster.
Receivables
Provides a single view across multiple business entities including AR amounts, DSO, credit utilization, disputes, payment behavior.
Collections
Provides the necessary tools and actionable insights collectors need to maximize their cash conversion efficiency.
Deductions
Streamlines and automates dispute resolution processes globally across the entire organization by setting up reason codes and workflows.
Gia Docs: Intelligent Document Processing
Reads finance documents and extracts information using intelligent document processing service.
Lead From The Future. The Future is with AI.
Want to Learn More About AI-powered Order-to-Cash Automation with Emagia?