An accounts receivable journal entry is a crucial element of a business's accounting system. It records all transactions for which payment has not been received yet. These entries show the amount a client owes to the business for products and services provided on credit. 
An accounts receivable journal entry intends to ensure that financial activities related to credit sales are documented and entered into the company's accounting records. This criterion assists businesses to keep track of their finances and manage their cash flow. For this specific type of entry, double-entry accounting is used, so there is an equal and opposite effect in two different accounts.
What is an Accounts Receivable Journal Entry?
Recording an accounts receivable transaction in a business's accounting records is done through an accounts receivable journal entry, a crucial step in documenting the financial activity. Accounts receivable refers to the sales for which payment was not received when the transaction occurred. In this case, credit is extended to the client with the expectation of receiving a payment in the future.
Journal entries play a crucial part in a company's accounting system. They are used to record financial transactions. These entries are usually made in the general ledger, or sometimes in a subsidiary ledger. The journal access includes information about the transactions, like the date, etc.
The general ledger is an accounting document that compiles the financial statements for a business. This data generates other financial statements like the balance sheet, income statement, and cash flow statement. These factors assess the company's financial position.
Why is the Journal Entry for Accounts Receivable Important?
The objective of a journal entry is to record every business transaction correctly and precisely, in physical or digital format. If a transaction impacts multiple accounts, the journal entry will document the information thoroughly.
The importance of journal entries for accounts receivable lies in their ability to aid in the analysis of a company's financial performance. One example of this is the receivables-to-sales ratio, which compares accounts receivable to sales during a given period. Tracking financial transactions through journal entries, it becomes possible to examine how each transaction affects the company. On top of this, there are many other plus points of using journal entries. Some of which include:
Serving as the initial step in recording a business's finances.
Providing a means for auditors, investors, and other professionals to go through a business's finances
Revealing any changes made to accounts
Being beneficial for companies of all sizes and in any industry
Helping businesses keep track of cash flow
Allowing a business to keep track of its finances
How to Achieve Digital World Class Performance with AR Automation. Read eBook
What are the Types of Accounts Receivable Journal Entries
There are a few common types of AR journal entries:
1. Simple Journal Entry
Businesses utilize simple journal entries to refund clients, make purchases, and transfer funds between accounts. One distinctive feature of simple journal entries is that companies enter a debit in one account and credit in the other, indicating that these entries impact the two accounts.
2. Compound Journal Entry
A compound journal entry can involve debiting or crediting two or more accounts. Businesses utilize compound entries to record payroll payments and deductions and to input multiple line items into a supplier invoice associated with many business expenses.
3. Adjusting Entry
Adjusting entries are employed to revise already recorded entries to make sure they align with the correct accounting periods. These entries do not imply that the original transactions are removed. Adjusting entries are new transactions that maintain the accuracy of a business's finances.
4. Reversing Entry
Reversal entries are the opposite of adjusting entries, but adjusting entries are not removed, nor are any previously recorded amounts altered. Reversal entries streamline financial reports by reversing the impact of adjusting entries.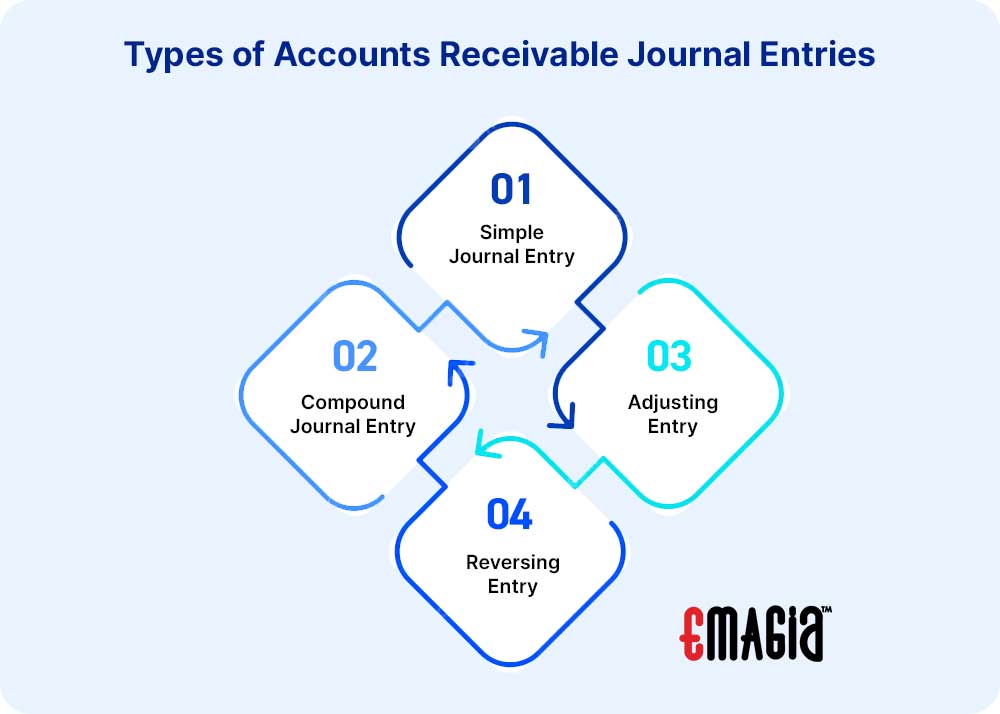 How are Accounts Receivable Journal Entries Recorded?
The initial step in accounting for accounts receivable is to generate an invoice, containing information about the transaction, like the customer, amount, credit amount, and payment terms. With this invoice, the transaction is in the company's accounting books via a journal entry that documents the transaction date and the amount owed.
All journal entries are created by the double-entry system of accounting, operating under the purpose that every transaction has an equal and opposite effect in two locations.
Every accounts receivable transaction necessitates two journal entries. The first journal entry looks at the total value of the transaction, while the second journal entry looks at the amount owed.
If the client receives credit for the total sale amount, the amount owed will equal the full transaction value. The customer paid for just a partial transaction and is taking credit for the remaining balance. The AR journal entry will show the outstanding amount.
Examples of Account Receivable Journal Entry
To gain a better understanding, in this link below, you will find a few instances of how AR journal entries are recorded and used:
Conclusion
In conclusion, the accounts receivable journal entry is a crucial element in a business's accounting system. It lets organizations track all financial transactions. With the double entry system, all transactions have an equal and opposite effect in two locations. The system ensures accuracy in financial reporting. Updating accounts receivable through these journal entries, adjusting entries, and even reverse entries, assists businesses in maintaining their financial health.

FAQs
What is the Rule of Journal Entries?
Journal entries have to have a credit and a debit account.
What is an Example of a Journal Entry?
An example is the purchase of goods and services by a country where the goods and services are debited.
What Account is Noted First in a Journal Entry?
The debit account shows up first.
Where Does the Cash Go in a Journal Entry?
Cash goes under the contra entry.
If a Withdrawal is Made, How is it Recorded in a Journal Entry?
A debit entry is created in the drawings account.