What is Invoice-to-Cash (I2C)? What are the latest trends in I2C automation? What are the key solutions driving the I2C applications market?
After decades of focus on Invoice-to-Cash (I2C) process redesign to drive improvements, companies are now focused on what Gartner calls "Technology Driven Process Improvement." Given the advances in functionality and reduction in cost of I2C technology, the focus for improvement in I2C operations is now on technology. In this blog, we will preview invoice-to-cash automation, the latest trends in I2C, factors driving its growth, and the Emagia edge in I2C applications market.
What is Invoice-to-Cash (I2C)?
Invoice-to-Cash (I2C) is a process that starts from the moment an invoice is generated until the customer's debt (payment) is settled. An efficient invoice-to-cash process is critical for businesses to maintain a smooth flow of operations. Any bottlenecks in the invoice-to-cash process can disrupt the whole process and trigger delays in invoicing, collections, cash application, and ultimately cash flow.
What are Integrated Invoice-to-Cash (I2C) Applications?
Integrated Invoice-to-Cash (I2C) applications are a new wave of integrated cloud platforms for accounts receivables operations aimed to drive high digital efficiency, improve cash flow and enhance customer experience. According to Gartner, integrated invoice to cash applications use a single platform with automation and predictive capabilities to drive hyper-efficiency in the AR management process.
Automation of the invoice-to-cash process, which is a key driver of the growth in the integrated I2C applications market, enables companies to handle a large volume of invoices and transactions while achieving significant savings in cost, time and resources.

What are the Latest Trends in Integrated I2C?
According to Gartner, the integrated I2C market is growing rapidly and is expected to reach $3 billion by 2024. With the pandemic spurring the demand for I2C applications, organizations are focusing more on their internal processes to accelerate collections. Top trends in integrated invoice-to-cash I2C include: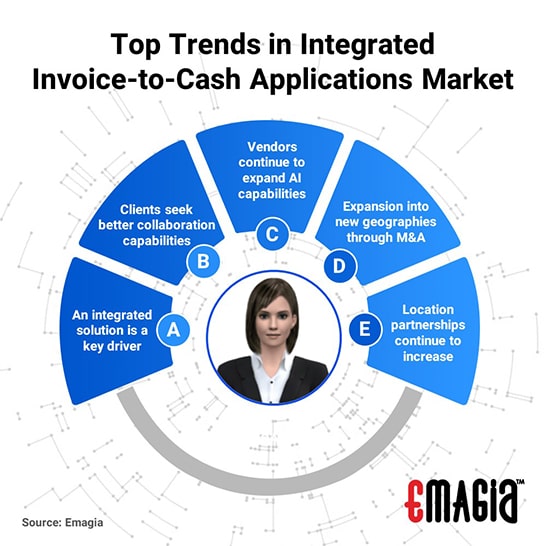 A). An integrated solution is a key driver: An integrated application to manage end-to-end I2C processes has become the key to achieve efficiency for most finance organizations. An integrated application provides predictive capabilities within the I2C process and enhances customer experience.
B). Clients seek better collaboration capabilities: Increased collaboration is becoming a key priority for organizations evaluating the integrated I2C applications. With COVID bringing in a major shift in workforce models, the need for increased collaboration is growing. Such collaboration within the network facilitates quicker resolution of customer disputes.
C). Vendors continue to expand AI capabilities: Integrated I2C vendors are using AI capabilities for early identification of AR risk, prioritize collection activities and achieve better cash application rates. A combination of automation, and analytics and AI plays a big role in critical decision-making.
D). Expansion into new geographies through M&A: Vendors are aggressively expanding their solutions to new geographies through M&A. A good M&A strategy enables vendors to consolidate their position.
E). Location partnerships continue to increase: ERP vendors are focusing on enhancing their capabilities. Similarly banks and digital payment service providers are expanding their offerings leveraging partnership to expand into new territories.
What are the Key Solutions Driving the I2C Applications Market?
There are six key solutions driving the growth in the integrated invoice-to-cash applications market. They are: Credit Monitoring, Customer Invoicing Automation, Collections Automation, Customer Payments, Cash Application Automation, and Deductions and Disputes Automation.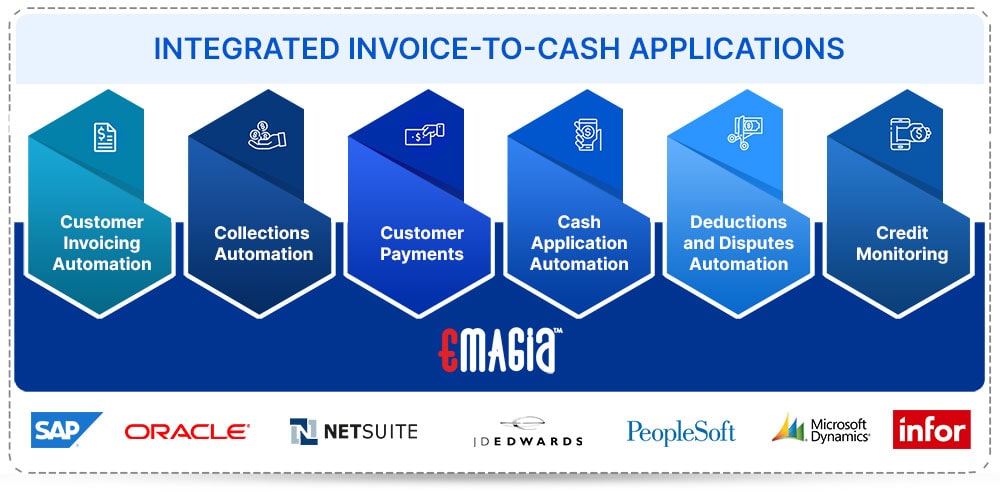 Credit Monitoring: Involves periodically reviewing the credit profile of customers with the latest credit scoring and credit bureau reports.
Customer Invoice Automation: Involves integrating invoice data from disparate systems and automatically delivering it to customers through various channels.
Collections Automation: Involves prioritizing tasks lists and automating collection tasks, providing business with a single view of AR.
Customer Payments: Enabling receipt of payments through multiple payment modes across payment gateways and currencies.
Cash Application Automation: Automatically matching customer payments and remittance information to open invoices to speed up cash posting.
Deductions and Disputes Automation: Resolving invoice deductions and disputes raised by customers with effecting coding, tracking, and routing.
Emagia Edge in Integrated I2C Applications
Though the last two years have been tough for many, Emagia successfully deployed the global rollout of its invoice-to-cash applications through its AI-powered fintech platform, Enterprise Receivables Management System.
Emagia is committed to deploying Intelligent I2C solutions that help businesses achieve digital leadership. Here's a brief look into how Emagia's AI-powered Invoice-to-Cash (I2C) application solutions make a difference:
Trends in Integrated Invoice-to-Cash (I2C) Automation. Read eBook
Emagia's sophisticated Enterprise Receivables Management System (ERMS) today powers the I2C processes for companies across pharmaceutical, building materials, healthcare, media, IT industries. All Emagia solutions integrate seamlessly with leading financial systems such as Oracle, SAP, NetSuite, JD Edwards and others.
To learn more about how Emagia can help you with integrated invoice-to-cash application solutions, request a demo.