Enterprise Receivables Management SuiteTM
Finance Transformation for the Credit and Collections Department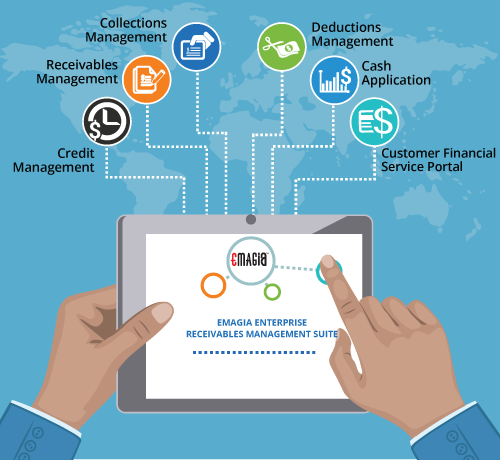 Cashflow is the lifeblood of any business. Today's corporations face tremendous pressure to maximize receivables performance. Also known as trade credit, receivables are the most cost efficient resources to accelerate the cash flow.
Lack of timely information on receivables stored in multiple disparate systems and the complexity introduced by disconnected manual processes, impede many finance executives' ability to measure and monitor credit risk and collections efficiency.
See how Emagia provides a single unified platform for managing all your order-to-cash processes seamlessly. Designed for high volume global operations, Emagia products are used by many credit and collections departments as well as finance shared service centers.
Emagia Receivables Management solution enables your enterprise to drive working capital efficiency on Order-to-Cash processes to lower DSO, increase customer satisfaction, and maintain fiscal discipline. Order-to-Cash is defined
as the business process flow comprising: customer data management, credit decisioning, standard invoicing/billing and electronic bill presentment, revenue recognition, cash receipt, cash application, collections (i.e., delinquencies, deductions, and claims/disputes), audit and financials compliance, and reporting.
Emagia Core Points
Next Generation Intelligent Order-to-Cash Management

Unified Credit, Collections, Deductions, Cash App, E-Invoicing and E-Payments

Embedded Predictive Analytics and Visualizations on Daily Workbenches

Built-in business intelligence components-Collection Risk Scoring, Credit Risk Scoring, Auto Matching Engine,Strategy Engine, Dunning Letters generation Engine, DSO and Cash flow Forecasting Engine

Global at Core-Currencies, Languages, Countries, Time zones

Prebuilt Connectors to Oracle, SAP, PeopleSoft, JD Edwards, MS Dynamics

Software-as-a-Service on Secure EmagiaCloud