Why choose Enterprise Receivables Management System (ERMS)?
Maximizes Receivables Performance
Improves cash flow, optimizes working capital, automates credit review process, and helps make timely decisions
Provides actionable business insights and delivers enhanced customer service
Streamlines Everyday Workflow for AR professionals
Provides a 360-degree global view for managing all order-to-cash processes seamlessly
Improves process efficiency with automate task lists
Accelerates Digital Transformation
Eliminates tedious error-prone manual processes and frees up resources for higher-value tasks
Provides anytime, anywhere access to global receivables data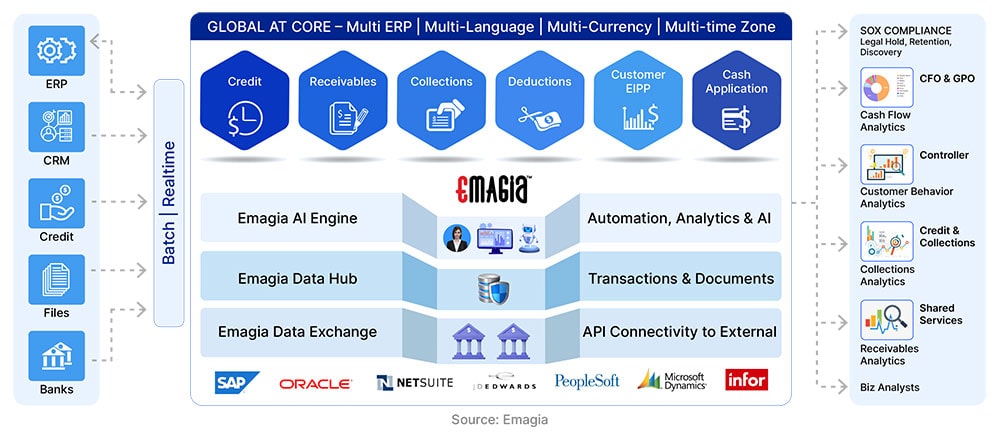 Start Transforming Your AR Operations Today
Delivering Exponential Impact with AI
Bringing the Power of AI to Receivables Automation
Emagia's AI-powered Enterprise Receivables Management System (ERMS) addresses the growing complexity of AR management by simplifying and streamlining everyday workflow for AR professionals. The solution accelerates revenue cycles, lowers credit risk while maximizing the financial performance of our customers by driving efficiency and intelligence in finance operations. Emagia's AI-powered ERMS provides a single unified platform that provides a 360-degree global view for managing all order-to-cash processes seamlessly.
Bringing the Trifecta Power – Automation, Analytics, AI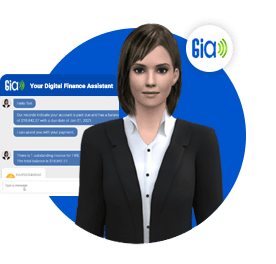 Gia: Digital Finance Assistant
Drive exponential efficiency in your Order-to-Cash operations with Emagia's AI-powered digital assistant. Gia is purpose-built for global finance to interact with customers.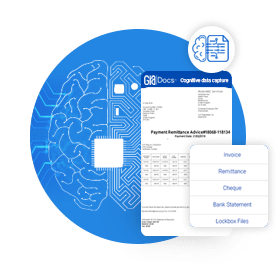 Gia Docs: Intelligent Document Processing
Go TOUCHLESS. Extract data from invoices, remittances, cheques, bank statements, lockbox files. Increase document data capture and cut down manual data processing costs by over 90%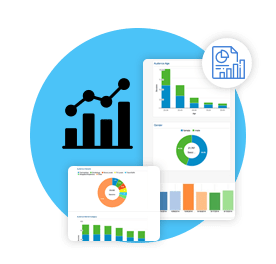 O2C
Order-To-Cash Analytics
Take charge of the complete Credit-to-Cash cycle with intelligent data. Monitor and measure all aspects of Accounts Receivable (AR) with critical insights and dashboards.
Why Emagia?
Emagia is recognized as a leader in the Digital Order-to-Cash by leading analysts.
Emagia has processed over $900 billion + in AR across 90 countries in 25 languages.
Proven Record of
15
+
Years
Processed Over
$

900

B+

in AR
Emagia's AI-powered O2C platform empowers businesses to achieve digital world-class performance

85%
or higher current
AR performance

90%
or higher cash application
auto-match rates

80%
or higher Credit approval
cycle acceleration

30%
or higher
DSO reduction

50%
or more Global
FTE redeployment