The pandemic has brought in a huge shift in our preferences. Today customers and suppliers are increasingly preferring the `digital' mode.
Digital Invoicing and Digital Payments are not only convenient but also accelerate the delivery of invoices and receipt of payment, thereby shortening the Order-to-Cash (O2C) cycle. Digital invoicing and payments enable Small and Medium Businesses (SMBs) to review an invoice the moment they receive it rather than putting it aside till the due date. This results in acceleration of payments, enabling a supplier to collect payment immediately, thereby avoiding the need to extend credit.
Download this eBook to understand:
How digital invoicing accelerates the O2C cycle
How digital payments accelerate payments from customers
The impact of digital invoicing & payments on customer experience
A glimpse into this eBook
Digital Payments, aka Real Time Payments (RTP), and "Frictionless Digital Payments" are electronic payments that transfer funds and Remit Advice
Digital Payments are made directly between buyer and seller through a direct, secure, internet connection on an Account to Account (A2A) basis (~ EDI)
Digital Payments are received from customers the same or the next day. Funds are also available is same or next day
Digital Payments also facilitate COD transactions by providing almost instantaneous confirmation of funds receipt which allows the delivery of product to proceed with minimal delay
Overview: The customer was a global water treatment solutions provider with $5.6B in revenues It has Global Shared Service Teams in India, Poland, and the USA.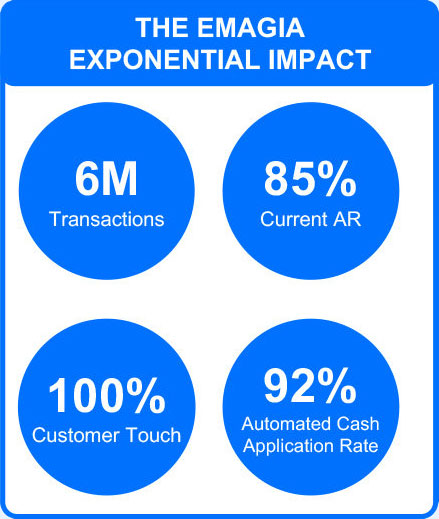 Digital Billing & Payments Solution: Emagia deployed its AI-powered Customer Billing, Payment Portal, Digital Payments, & Cash Application across 80 business units, 16,000 customers with multiple currencies from multiple countries.
Functionality includes straight-through processing of Digital Payments (E-checks and Credit Cards), and customer logging of disputes.
Exponential Impact:
Accommodation of Customer Preferences/Requirements for self-serve Digital Billing & Payments resulting in increased Customer Satisfaction
92% auto-cash hit rate
60% reduction in operations cost to process payments