Digital assistants are opening up a world of innovation, optimization and opportunities. They not only perform several tasks in the O2C (order-to-cash) process, but also help companies address the current workforce and hiring challenges by eliminating most of the manual tasks, reduce attrition through job enrichment. And they enhance customer experience in financial services.
The past year has seen what has been called "The Great Resignation." Employee attrition has increased substantially. Finding replacements has also been difficult as the workforce has declined enough to make the labor supply very tight. Replacements also command significantly higher compensation levels than their predecessors. In a recent Protiviti survey, C-Suite executives cited staff turnover as the second most serious business risk for 2023. What can organizations do to retain experienced staff, attract new staff and control the compensation costs? Believe it or not, Digital Assistants can address this Human Resources challenge.
Digital Assistants – A Powerful Solution to Staffing Challenges
Technology can mitigate the impact of the `Great Resignation' by increasing employee retention, making the jobs more attractive by reducing the repetitive `grunt' work, and facilitating Work from Home while delivering substantial productivity gains and reducing costs.
The technology of AI-powered Digital Assistants can deliver these exponential gains. Digital Assistants, also known as DAs, can automate up to 70-90% of manual operations in the order-to-cash process by performing Intelligent Document Processing (IDP). They also improve speed, accuracy and customer response.
The Role of AI-powered Digital Assistants in Intelligent Document Processing
AI-powered Digital Assistants mimic humans in many operations – the most important one being Intelligent Document Processing (IDP), which involves extracting data stored in an unstructured format and putting it into a structured format for further processing. According to Gartner, nearly 80% of an organization's data is locked up in unstructured formats such as PDFs, scanned copies, Images, email text, body etc. The costs to extract and convert this data manually are immense.
Trained with human-like conversational skills, Digital Assistants engage and assist customers 24×7 using advanced technologies such as artificial intelligence (AI) with cognitive self-learning (Machine Learning) and Natural Language Processing (NLP) to interpret text and voice.
The implementation of AI Digital Assistants utilizing Intelligent Document Processing (IDP) can reduce attrition by:
Eliminating keypunch and other repetitive tasks so team members can focus on higher-level, more challenging activities, thereby enriching the job
Facilitating Work from Home, which is a strong preference for a majority of employees
Easing the Hiring challenge by enabling the offering of more attractive jobs and Work from Home
Mitigating the cost of compensation increases by allowing a reduction in the workforce
Digital Assistants and the Order-to-Cash Process
AI Digital Assistants can eliminate 70-90% of manual work in the order-to-cash operations such as Credit, Collections, Cash Application, and Deductions Resolutions
In B2B Credit Processing, digital assistants can secure online credit application submissions from new customers, verify key information, perform credit scoring, and route recommended credit limits for approvals. For existing customers, digital assistants can perform periodic credit reviews.
In Collections, Digital Assistants proactively notify customers on upcoming payments, present payment options and process payments.
In Cash Application, Digital Assistants extract remittance data from paper remittance advice, customer vendor portals, Customer Care portals, EDI 820 and BAI2 transmissions, customer files in Excel, bank lockboxes, and digital payment transmissions. They can apply customer payments to specified invoices to speed up cash posting.
In Deductions, digital assistants empower customers to find answers on their own, help resolve disputes quickly by assigning reason codes for deductions, and schedule calls with physical staff.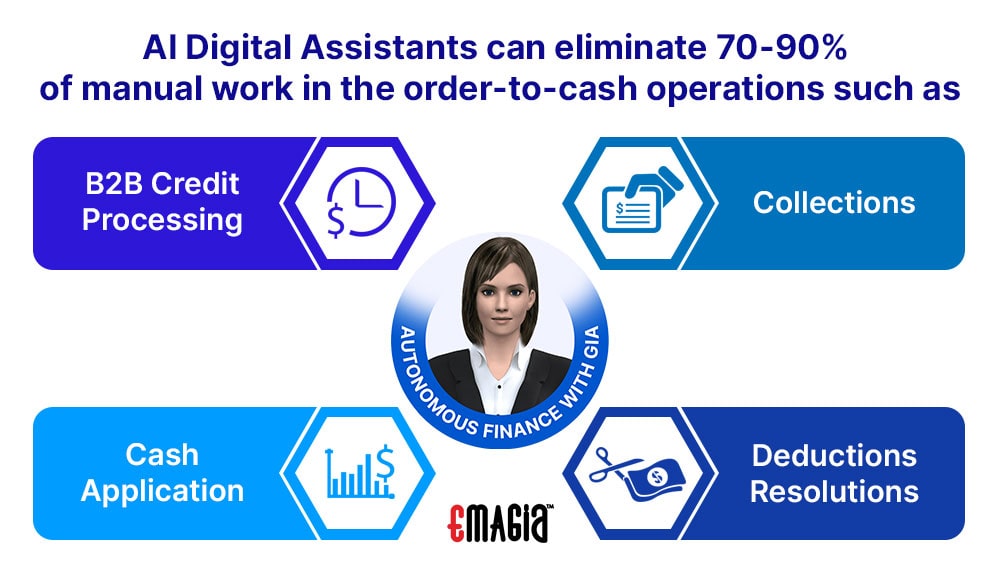 Without this automation, enterprises could end up in a destructive cycle of attrition, hiring, training, more attrition, etc. The collective experience and expertise of your staff will steadily decline leading to a decline in performance and results.
With cognitive and human-like smart conversational capabilities, along with continuously evolving job skills, digital assistants can improve staff productivity and morale, lower attrition, communicate faster with customers, reduce days sales outstanding (DSO), and improve accuracy and quality of operations. Digital Assistants is not a technological vision for tomorrow; it's already a reality helping companies reap exponential gains in their financial operations – today! If you have not yet considered a digital assistant, it's time you did.