Enterprise digital assistants not only provide real-time information to executives, employees and customers; they can take over up to 90% of manual operations in the order-to-cash (O2C) operations, bringing enormous productivity gains through improved accuracy and speed.
Digital Assistants: Conversational Agents of Change
Companies realize the need to digitize financial operations, and not only for the sake of productivity. Having real-time information on cash position, for example, is extremely valuable when businesses must suddenly adapt to unexpected conditions.
It is an opportune time for digital transformation from the standpoint of available technology. The strategic joining of key technologies now enables companies to realize new levels of productivity. Where five years ago, some technologies were untested, today they are proven.
Enterprise cognitive agent technologies, known as intelligent digital assistants, are a good example. Enterprise digital assistants combine artificial intelligence using deep learning networks with natural language processing and integrated enterprise information processing.
These conversational agents sync with data and operational systems to make information searches and operational tasks much more efficient. They can take over 70 to 90 percent of manual operations in, for example, accounts receivable and the order-to-cash (O2C) process, bringing enormous productivity gains through improved accuracy and speed.
Digital Assistant Capabilities
Digital assistants provide real-time information to executives, employees and customers. Digital assistants (DAs) backed by deep learning, semantic engines, intelligent process modeling and other blended AI capabilities represent state of the art.
The value of technology is in its utility, and advanced enterprise DA capabilities are compelling. DAs should not be confused with chatbots with logic trees. An enterprise DA can verbally answer verbal or text queries by executives and authorized staff in real time. Trained in business processes, they communicate information and execute tasks based on communication or programmed instruction enhanced by machine learning. Performance improves over time.
Digital Assistants Trained for Business
Consumers ask Alexa, "What is the weather forecast? Find a recipe for baked Alaska, or Who won last night's game?" In business, the questions are: "Has customer-X paid last month's invoice?" or "What's our DSO in region A?" A market-leading enterprise DA integrated into ERPs can answer those and more.
Decision-making depends on accurate, timely information. Most finance leaders must invest time researching and navigating their data systems for information or assign the job to staff and wait. The larger and more complex the company and its databases are, the longer the wait. The ability to ask for information from an enterprise digital assistant in plain language and receive that information immediately provides a finance executive a tremendous advantage.
DAs Eliminate the "Wait"
Information on billings, receivables, cash flow or financial metrics is available on-demand. Executives with intelligent digital systems simply have to ask. Likewise, authorized financial operations staff can get immediate answers, even while they are interacting with customers.
Digital assistants go beyond providing information. Their underlying data analytics, training and machine learning enable them to forecast, prescribe and perform business process tasks, including customer interactions.
Case in Point
Technology leader Emagia introduced its intelligent enterprise digital assistant "Gia" three years ago as part of its comprehensive digital order-to-cash system that is enabling customers to attain world-class AR performance as acknowledged by The Hackett Group. Gia uses artificial intelligence, predictive analytics and natural language processing to engage in straightforward and complex user conversations.
Gia answers questions like "What is our total AR?" or "What is the total cash received so far this week?" Connected to a cloud-based financial data lake, she can answer questions truly enterprise-wide, and support all O2C automation processes, including:
Credit
Receivables
Collections
Deduction management
Cash application
Cash flow forecasting
Customer EIPP portals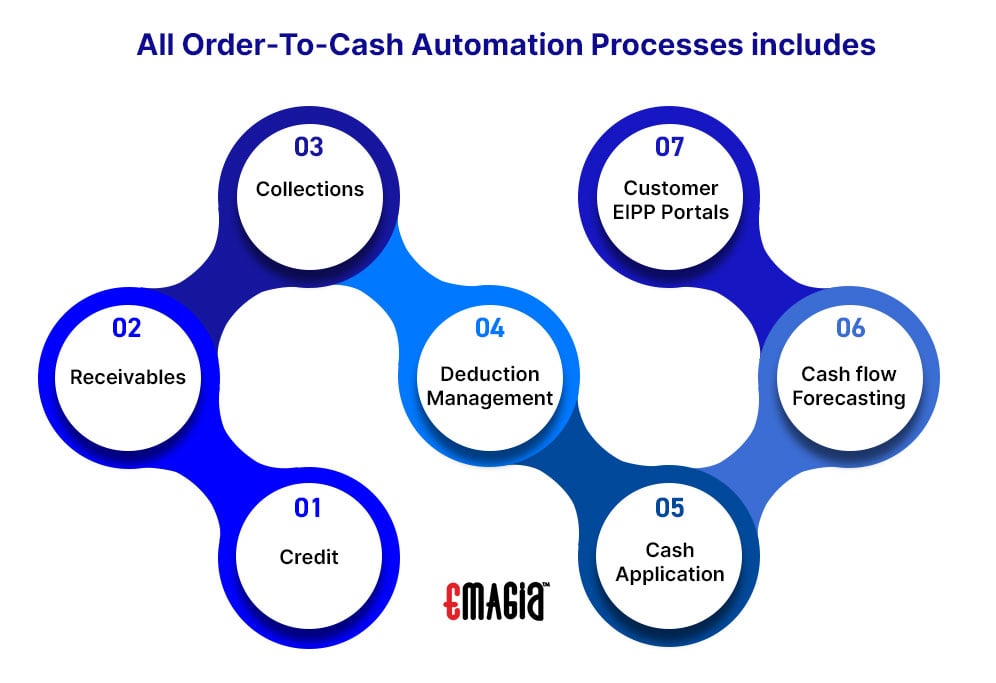 For example, in collections, Emagia's system automatically sends a reminder letter accompanied by Gia. The customer can ask Gia questions like which invoices are outstanding. Gia can create payment dispute tickets, take payment, or accept a partial payment along with information on the short pay. Gia automatically creates deductions to be routed with all pertinent information for resolution.
Gia: Multifaceted 24/7
Gia has similar inquiry capabilities for credit applicants and information gathering capabilities from credit bureaus, government agencies, and more. In cash application, GiaDocs automatically gathers information from all types of payment and remittance documents and records and auto-applies it in a virtuous learning cycle that will produce an auto-cash application rate above 90 percent.
Gia facilitates communications between a company and its customers. It is available 24/7/365 and, critically, scales with a company's growth. Companies always face the demands of "better, faster, cheaper." An enterprise digital assistant like Gia helps organizations achieve those objectives.
Digital assistants are part of systems already performing work faster and more accurately. The digital AI tools can help scale operations in global finance departments to reduce costs, improve productivity, speed decision-making, and increase process efficiency to unprecedented levels.