Order to Cash is going through a huge transformation. Post COVID-19, latest digital technologies are powering the order-to-cash solution providers to accelerate the AR to improve DSO, collections effectiveness, customer satisfaction, and employee productivity. How does the future of order to cash look like? What is the role of order-to-cash going to be?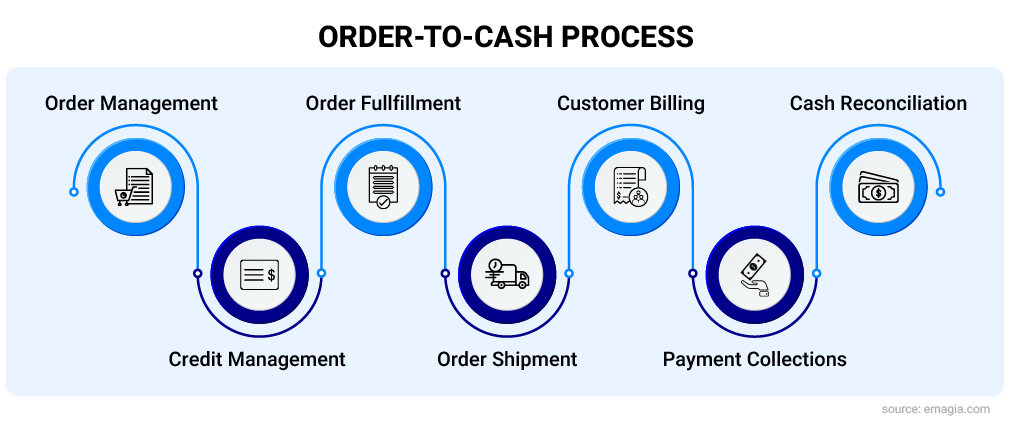 Here are eight predictions derived from Emagia's order to cash experience and 'Deliotte Finance 2025' predictions:
The Digital Order-to-Cash Factory: Expect a major shift to Digital Order-to-Cash services such as Digital Credit, Digital Invoicing, Digital Payments, Digital Collections, Digital Deductions, and Digital Cash Application. Autonomous order-to-cash platforms leveraging automation, analytics and AI will redefine the O2C landscape.
The Role of Order-to-Cash: There will be a shift from back-office operations to front-office stewardship. Order-to-cash leaders need to understand both business and technology.
Order-to-Cash Cycles: Real-time cash forecasting will help businesses improve cash flow and working capital. Fintech innovations will boost working capital availability.
Self Service Order-to-Cash: Self-service and AI-assisted customer finance portals will become the norm in enabling customers to access invoices, make payments and resolve disputes 24×7.

Order-to-Cash Operating Models: Digital transformation is in. Offshoring and BPOs are out. Cost of operations will come down phenomenally. Shared services will become insight-based services.
Enterprise Resource Planning: ERPs will open APIs to third-party digital order-to-cash platforms.
Order-to-Cash Data: Order-to-cash process will be driven by data. Analytical tools support decision-making while intelligent order-to-cash operations proliferate.
Workforce and Workplace: Digital assistants will assist the staff managing order-to-cash operations.