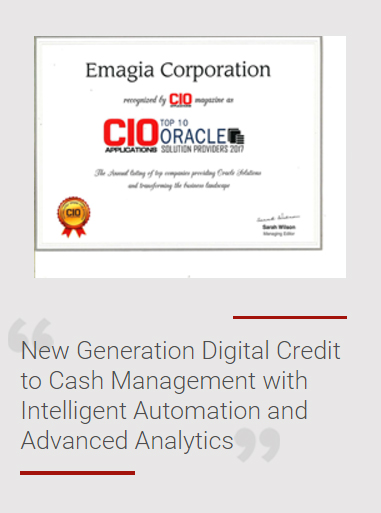 SANTA CLARA, Calif., June 21, 2017 — Emagia Corporation, a leading provider of Enterprise Order-to-Cash Management (OTC) solutions, was selected by CIO Applications as one of the Top 10 Oracle Solution Providers 2017.
This month's issue of CIO Applications Magazine identifies the top 10 Oracle solutions providers across all Oracle enterprise solutions ecosystem including Oracle E-Business Suite, Fusion, PeopleSoft, JD Edwards, Oracle DB, Oracle Cloud, infrastructure solutions, vertical industry solutions, process management and analytics solutions.
A distinguished panel of CEOs, CIOs, industry analysts and the editorial board of CIO Applications evaluated the capabilities of thousands of vendors in the Oracle partner solutions ecosystem. The panel shortlisted the companies that they believe showcased an in-depth expertise and proven track record of delivering integrated and innovative technologies to add value to customers across the Oracle landscape.
Veena Gundavelli, Founder and CEO of Emagia said, " We are honored and proud to be part of this prestigious list. We appreciate the recognition of our continued innovation and commitment to empowering Oracle customers, to accelerate their finance transformation and enable their order-to-cash operations to be digital, data-driven and future ready."
Emagia extends the credit to cash functionality of Oracle, PeopleSoft and JD Edwards system with intelligent automation and advanced analytics capabilities to empower accounts receivables teams.
Emagia's flagship solution, Emagia Enterprise Receivables Management Suite serves as a single unified order-to-cash management platform with new generation digital automation capabilities for high volume businesses and shared services using one or more ERPs.
Emagia Advanced Analytics provides pre-packaged descriptive, predictive and prescriptive insights for order to cash operations.
To view the CIO Applications Review on Emagia, click here
To learn more about Emagia Enterprise Receivables Management Suite, click here.
About Emagia Corporation
Emagia Corporation is a leading provider of data-driven finance operations management solutions. For over a decade, Emagia has been delivering highly innovative technology solutions to transform, automate and optimize order-to-cash processes for maximizing cash flow and improving working capital management. Emagia Enterprise Receivables Management Suite (ERMS) includes Advanced Analytics, Credit Management, Receivables Portfolio Management, Collections Management, Deductions Management, Cash Flow Forecasting, Cash Application and Customer Financial Services (EIPP) Portal. Emagia Advanced Analytics provide enterprise-class, prepackaged business intelligence and advanced analytics dashboards – descriptive, predictive, prescriptive analytics – for entire order to cash cycle. Emagia has served as the primary technology platform for many receivables departments as well as for F&A shared service centers. Many companies across the world have achieved significant and sustainable improvements to their DSOs, credit risk, cash flow and profitability with Emagia solutions.