Leading Innovations in Finance Operations with Inclusivity and Diversity
Santa Clara, CA – April 02,2018 – Emagia, a leading digital and data-driven finance solutions company, announced today that Veena Gundavelli, the founder and CEO, has been recognized at the 2018 Women in IT Awards USA, the world's largest tech diversity event, as the Innovator of the Year. The event brought together over 550 industry leaders at a spectacular ceremony in New York at the grand Gotham Hall in Manhattan.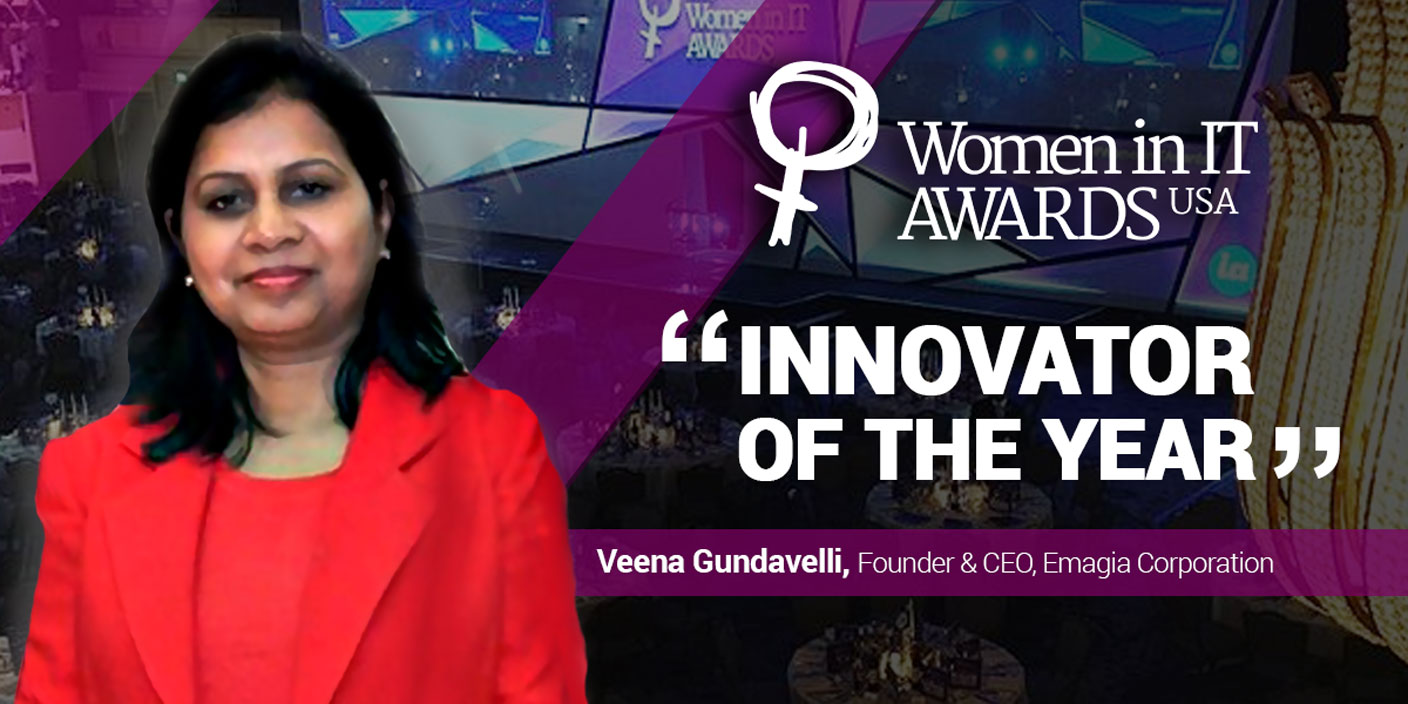 The Women in IT Awards, organized by Information Age in partnership with Amazon Web Services, brings into focus the achievements made by women in technology and identify new role models in a sector where female representation stands alarmingly low. The initiative has gathered resounding support from trade associations.
Veena Gundavelli, who has founded Emagia, has been a driving force behind the company's continued innovation of its product portfolio bringing new generation digital, data-driven and cognitive solutions to enterprise finance operations. Her vision for the future of finance operations with skilled digital workforce coupled with self-driving, autonomous and intelligent systems is leading Emagia innovations for customer financial services, order-to-cash, treasury and other areas of finance automation.
"I am very honored and humbled to have received this recognition. The purpose of our innovation is to create an exponential impact in the world of finance. I am a strong supporter of gender diversity and inclusivity in our global teams. We believe that differentiated ideas helps our business to not only grow but also be relevant to our customers globally" said Veena Gundavelli.
Diane Bryant, Google Cloud's chief operating officer, delivered the evening's keynote speech, emphasising the importance of diversity in driving innovation across America's tech sector. The awards are sponsored by premium sponsor T-Mobile, diversity partner BMC Software, as well as AT&T, Bluewolf, BP, Deloitte, Equinix, FireEye, Frank Recruitment, Google Cloud, Investment News Women to Watch, Neustar, Rolls-Royce, SheSays and Zayo.
About Emagia Corporation
Emagia delivers digital and data-driven finance solutions aimed to modernize finance operations to the digital age. Over a decade, Emagia has been delivering highly innovative order-to-cash(O2C) automation platform for global finance and F&A shared service. Emagia Enterprise Receivables Management Suite (ERMS) automates credit, receivables, collections, deductions, cash flow forecasting, cash application and billing & payments. Emagia O2C Advanced Analytics Suite provide enterprise-class, prepackaged advanced analytics – descriptive, predictive, prescriptive analytics – for entire order to cash cycle. Many companies across the world have achieved significant and sustainable improvements to their costs, compliance, control and cash flow with Emagia solutions. For more information, visit http://www.emagia.com.
Connect with Emagia Corporation
Visit our website: www.emagia.com
Follow us on Twitter: @emagiacorp
Join us on Facebook: https://www.facebook.com/EmagiaCorporation
Follow us on LinkedIn: https://www.linkedin.com/company/36035/