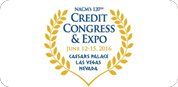 SANTA CLARA, CA – (June 10, 2016) Emagia Corporation, a leading provider of order-to-cash automation and analytics solutions, will exhibit and present at the 120th Credit Congress and Exposition, hosted by the National Association of Credit Management (NACM) from June 12-15, 2016 at Caesars Palace in Las Vegas.
NACM's Credit Congress and Expo is the nation's largest meeting of business credit practitioners. For NACM, this marks 120 years of excellence, vision, and unity at the nation's largest meeting of business credit professionals. Credit professionals representing all industries attend Credit Congress, which allows them to meet peers and make lasting connections.
Emagia will present its latest innovations that are included with its digital credit management solution www.thecreditapplication.com and the Emagia Receivables Management Suite for Accounts Receivable teams. These include AR portfolio management, credit management, collections management, deductions management, cash application management, cash flow forecasting, and Emagia Order-to-Cash Analytics, a prepackaged data analytics and dashboards for AR managers and finance executives. Emagia products work seamlessly with Oracle, SAP, PeopleSoft, JD Edwards and many other systems.
" The NACM Expo is a great forum to meet credit executives face-to-face and help them discover how technology solutions can help improve efficiency," said Veena Gundavelli, CEO of Emagia.
The latest innovations are focused on utilizing digital technologies to create an immediate and measurable impact on credit effectiveness, collections efficiency, and cash flow. Integrations with NACM's NTCR credit reporting services with Emagia solutions will also be showcased at the NACM Preferred Partners Demo Rooms. Emagia will exhibit in Booth #110
About Emagia
Emagia corporation is a leading provider of enterprise order-to-cash management (OTC) technology solutions. For over a decade, Emagia has been delivering highly innovative business process automation solutions to transform, automate and optimize risk and receivables management. For more information on Emagia, please visit www.emagia.com