December 18, 2018 — Santa Clara, Calif — CIO Applications, a leading technology magazine, has awarded Emagia as one of the "Top 10 Virtual Assistant Technology Solution Providers 2018″. Emagia is the leading provider of intelligent digital solutions for order-to-cash operations.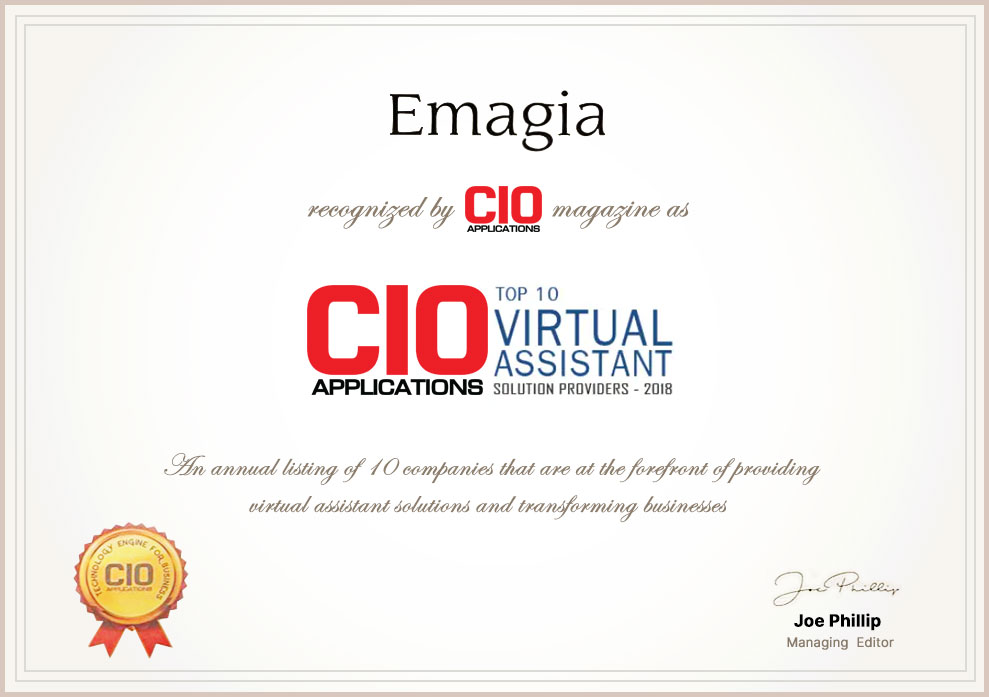 Selected by a distinguished panel, comprising of CEOs, CIOs, VCs, industry analysts and the editorial board of CIO Applications, Emagia was narrowed down among many other solution providers to the final Top 10 providers that exhibit competence in delivering virtual assistant technology solutions.
Emagia's Gia is a digital cognitive assistant for global finance executives, order-to-cash shared services and accounts receivables operations teams. Equipped with specific skills in credit, collections and finance, Gia has smart conversational capabilities to communicate with and provide support to customers, sales, operations and treasury teams. Gia delivers next-generation digital transformation to scale operations in global finance, order-to-cash operations with human and digital hybrid teams to boost operations efficiency to whole new levels.
Veena Gundavelli, Founder and CEO of Emagia said "We are excited to be part of this prestigious list. We appreciate the recognition of our continued innovation to redefine the future of finance operations with human and intelligent digital assistants – the next generation hybrid workforce".
Gia brings together the power of AI, advanced analytics and intelligent automation to finance operations to provide quick reports, smart answers, do simple to complex predictions and perform both mundane repetitive as well as skilled tasks — reducing operational costs, augmenting human workforce, improving their productivity and increasing process efficiency to unprecedented levels
To view CIO Applications review on Emagia, click here.
To learn more about Gia, click here.
About Emagia Corporation
Emagia delivers intelligent digital order-to-cash solutions aimed to modernize finance operations to the digital age. Emagia Enterprise Receivables Management Suite (ERMS) automates credit, receivables, collections, deductions, cash flow forecasting, cash application and billing & payments. Emagia O2C Advanced Analytics Suite provide enterprise-class, prepackaged advanced analytics – descriptive, predictive, prescriptive analytics – for entire order to cash cycle. Emagia's Gia, Digital Finance Assistant brings cognitive skills in accounts receivables, credit and finance areas to assist global finance staff and executives. Many companies across the world have achieved significant and sustainable improvements to their order-to-cash cycle costs, compliance, control and cash flow with Emagia solutions. For more information, visit https://www.emagia.com.
Connect with Emagia Corporation
Visit our website: www.emagia.com
Follow us on LinkedIn: https://www.linkedin.com/company/emagia/