Emagia Awarded "Top 10 Fastest Growing Cognitive Solution Providers 2018"
Jan 9, 2019 — Santa Clara, Calif — Emagia Corporation, the leading provider of integrated digital automation solutions for order-to-cash operations, today announced that it was recognized by Technology Headlines as "Top 10 Fastest Growing Cognitive Solution Providers 2018". Technology Headlines is a leading technology magazine that did an in depth research into companies that provided cognitive solutions and chose ten that looked most promising.
"We are honored to receive this recognition for leading order-to-cash transformation for our customers, taking them to digital and beyond into the cognitive world ", said Veena Gundavelli, founder CEO of Emagia Corporation,"The future of finance operations is with hybrid teams – human and intelligent digital assistants. Cognitive capabilities drive exponential improvements to operational efficiency and customer experience".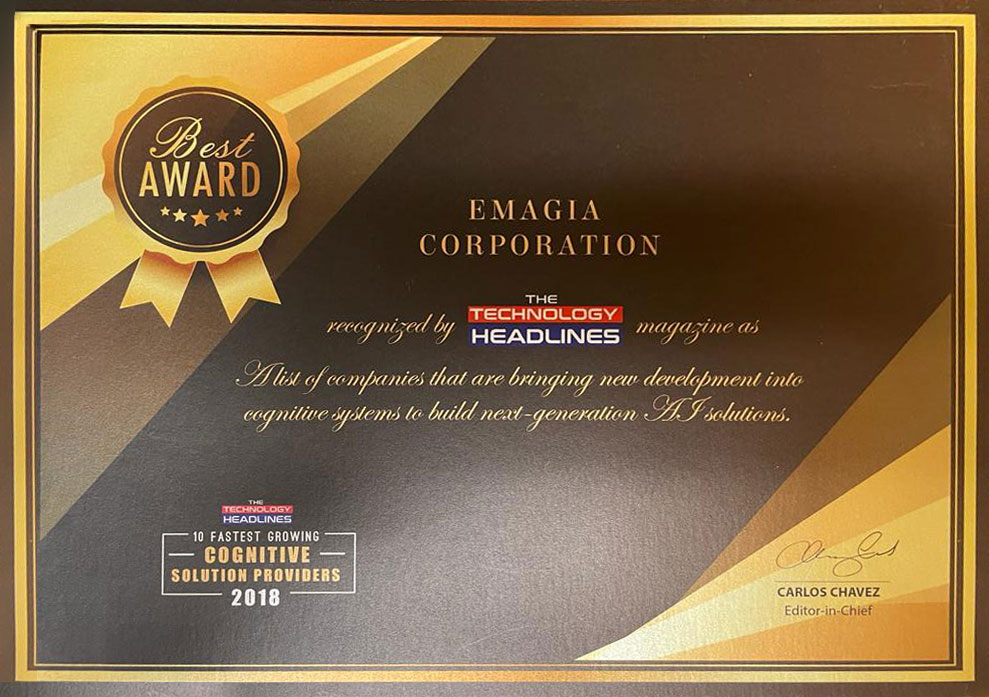 Emagia combines automation, analytics and artificial intelligence delivering cognitive capabilities in its integrated order-to-cash automation platform. Emagia focuses on digitizing and automating the entire order-to-cash cycle – credit, receivables, deductions, cash application, customer invoice presentment and payments.
Emagia 's Gia is a digital cognitive assistant skilled to perform and augment order-to-cash shared services and accounts receivables operations teams. Gia has smart conversational capabilities to communicate with customers, sales, credit and collections operations and treasury teams with chat and voice capabilities. Gia is like Apple Siri or Amazon's Alexa but for enterprise finance accounts receivables operations. It can serve as customer financial services assistant and perform automatic functions like following up with customers on invoices, taking digital payments as well as providing conversational support to customers.
To view Technology Headlines review on Emagia click here.
For more information, visit https://www.emagia.com.
About Emagia Corporation
Emagia delivers integrated order-to-cash automation solutions aimed to modernize finance operations in the digital age. Emagia Enterprise Receivables Management Suite (ERMS) automates credit, receivables, collections, deductions, cash flow forecasting, cash application and billing & payments. Emagia O2C Advanced Analytics Suite provide enterprise-class, prepackaged advanced analytics – descriptive, predictive, prescriptive analytics – for entire order to cash cycle. Emagia's Gia, Digital Finance Assistant brings cognitive skills in accounts receivables, credit and finance areas to assist global finance staff and executives. Many companies across the world have achieved significant and sustainable improvements to their order-to-cash cycle, days sales outstanding, operational costs, compliance, control and cash flow with Emagia solutions.
Connect with Emagia Corporation
Visit our website: www.emagia.com
Follow us on LinkedIn: https://www.linkedin.com/company/emagia/