This next-generation cognitive AI data capture service for receivables and treasury is now available as a cloud service. It eliminates manual data extraction and data entry from document processing to drive hyper productivity gains
January 28, 2020— Santa Clara, Calif. – Emagia, a leading provider of AI-based fintech platforms for receivables and treasury, today announced Gia Docs AI, a next-generation cognitive data capture service. Gia Docs AI is based on next-generation neural network deep learning technologies. These give it human-like cognitive skills, allowing it to read, learn, understand and extract data from finance documents. Gia Docs AI replaces both time-consuming manual data extraction and costly templatized RPA bot-based extraction with self-learning data capture capabilities that mimic the human mind.
Gia Docs AI is now available as a cloud service in two forms:
First, in the Emagia's digital finance assistant, Gia, a "Alexa" and "Siri"-like assistant for enterprise finance business users.
Second, as the open Gia Docs API allowing IT developers to integrate the cognitive data capture capability easily with their existing enterprise systems.
Available now as a monthly subscription service, Emagia aims to democratize cognitive data capture skills to all finance organizations and empower them easily with this purpose-built service.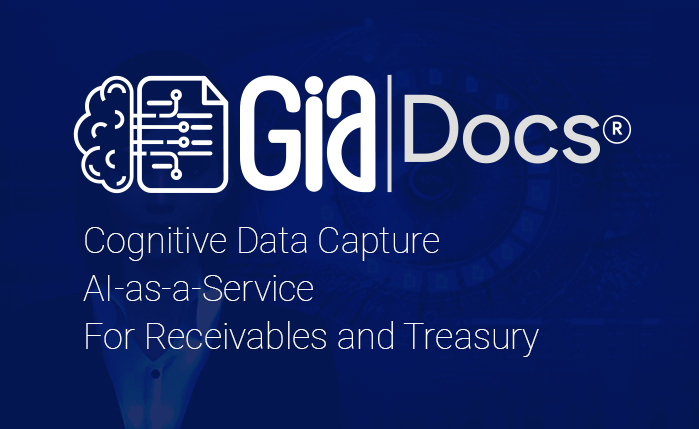 Finance staff can ask Gia in a chat or voice conversation to read and extract information from invoices, remittances, checks, bank statements, and lock-box files into neatly extracted data files in CSV formats.
The Gia Docs AI API can be used by IT developers to integrate document data capture skills into their document management, finance and treasury management systems such as SAP, Oracle, PeopleSoft, JDEdwards, MS Dynamics, NetSuite, Workday, Salesforce, and IT2.
Manually transforming document data to structured formats adds huge cost to financial and treasury services. According to Forrester, "Enterprises are sitting on mountains of unstructured data — 61% have more than 100 terabytes, and 12% have more than five petabytes". This enterprise-scalable solution can support various file formats and can export the data extracted into industry standard data formats automatically at a trivial cost and much higher speed and accuracy than manual methods.
"Our mission with Gia Docs AI is to take modern finance organizations to the future of zero manual data extraction in the digital age," said Veena Gundavelli, Founder & CEO, Emagia. " Gia Docs AI is a productivity and cost game changer for every modern finance and treasury department ".
To learn more about Emagia, visit https://www.emagia.com
To learn more about Gia Docs AI, visit https://www.emagia.com/products/gia-docs/
About Emagia
Emagia delivers an AI-powered fintech platform for receivables and treasury aimed to modernize finance operations for the digital age. Over a decade, Emagia has delivered highly innovative and award-winning order-to-cash automation platforms for global finance, F&A shared services, and BPO organizations. Powered by the Emagia AI platform, the Emagia Enterprise Receivables Management Suite (ERMS) brings an automation, analytics and AI trifecta to empower digital credit, digital receivables, digital collections, digital deductions, digital cash flow forecasting, digital cash application, and digital billing & payments. The Emagia Advanced Analytics Suite provides deep insights from descriptive, predictive, and prescriptive analytics for the entire order-to-cash cycle. Emagia's Gia DIgital Finance Assistant is the next-generation conversational AI assistant designed to improve the productivity of financial staff and improve the digital finance experience of customers. Emagia Gia Docs AI is a cognitive data capture service for reading and extracting data from finance documents. Many companies across the world have achieved significant and sustainable improvements to their costs, compliance, control, and cash flow with Emagia solutions.
Connect with Emagia Corporation
Visit our website: www.emagia.com
Follow us on Twitter: @emagiacorp
Join us on Facebook: https://www.facebook.com/EmagiaCorporation
Follow us on LinkedIn: https://www.linkedin.com/company/emagia/