Modern Cognitive and Autonomous Receivables Solutions from Emagia Showcased at Oracle Open World 2019
SAN FRANCISCO, Sept. 18, 2019 – Emagia, a leader in digital solutions for integrated order-to-cash automation, announced today at the Oracle Open World, the extension of the artificial intelligence (AI) capabilities for accounts receivables automation to Oracle ERP Cloud. Emagia's latest Digital Receivables brings automation, analytics and AI to modernize all aspects of receivables and payments management.
Emagia Digital Receivables for Oracle ERP Cloud includes
Modern receivables automation including credit, billing, payments, collections, cash application and cash flow forecasting.
Advanced analytics for descriptive, predictive and prescriptive insights on cash flow operations.
Gia – Digital Finance Assistant with cognitive and intelligent conversational capabilities to help finance staff and customers on receivables and payments.
Oracle Open World, dedicated to helping businesses leverage Cloud for their innovation and growth is the industry's most important business and technology conference. The event hosts tens of thousands of in-person attendees as well as millions online. The conference delivers deep insight into industry trends and breakthroughs driven by technology.
Emagia's Gia is the next generation AI-powered digital finance workforce created for exponential impact on finance operations efficiency. Gia can be used for the following purposes.
Secure Information: For Finance executives Gia enhances decision-making by providing real-time financial information from ERP and other enterprise systems.
Skilled Operations: For credit, collections, treasury and billing departments Gia boost efficiency by providing quick information and performing repetitive human-like tasks using job skills specific to financial processes.
Smart Services: Gia also enhances customer financial experience of interacting and engaging customers in finance conversations.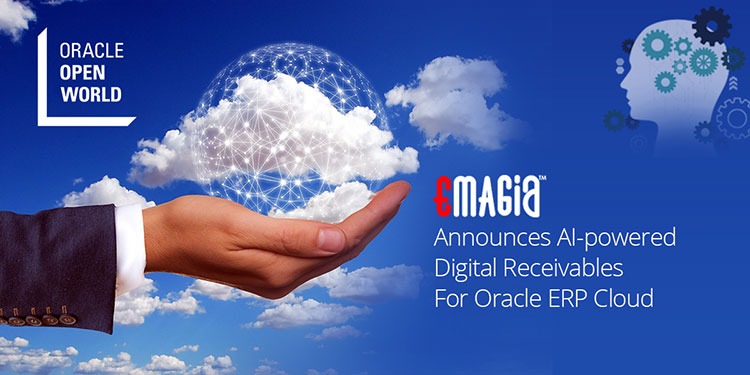 "Modern finance experience for customers in the digital age demands very personalized and highly efficient user experience. The Emagia brings the digital, voice and cognitive capabilities needed for the financial operations to modernize their billing, receivables and payments operations." Says Veena Gundavelli, Founder and CEO of Emagia Corporation.
For over a decade, Emagia has been continuously defining the possibilities of the future of finance. Emagia has served as the primary technology platform for several credit and collections departments as well as for F&A shared service centers. Several companies across the world achieved significant and sustainable improvements to their digital customer financial service experience, their DSOs, credit risk, cash flow, and profitability with Emagia Solutions.
For more information, visit https://www.emagia.com.
About Emagia Corporation
Emagia delivers integrated order-to-cash automation solutions aimed to modernize finance operations in the digital age. Emagia Digital Order-to-Cash Platform and Solutions automate credit, receivables, collections, deductions, cash flow forecasting, cash application and billing & payments. Emagia Order-to-Cash Advanced Analytics Suite provides enterprise-class, prepackaged advanced analytics – descriptive, predictive, prescriptive analytics – for the entire order-to-cash cycle. Emagia's Gia, Digital Finance Assistant brings cognitive skills in accounts receivables, credit, and finance areas to assist global finance staff and executives. Many companies across the world have achieved significant and sustainable improvements to their order-to-cash cycle, days sales outstanding, operational costs, compliance, control and cash flow with Emagia solutions.
Connect with Emagia Corporation
Visit our website: www.emagia.com
Follow us on LinkedIn: https://www.linkedin.com/company/emagia/