AI has been a tremendous game-changer since its rise in the technology world. Further, the expansion of AI/ML has opened up new doors such as speech recognition, decision management, and deep learning platforms. Cognitive technologies are making a great impact on financial services and bringing in the promise of digital efficiency. Picture an enterprise that has all these technologies combined into one single platform, which elevates the status of a finance department by performing specialized tasks and guides the management to focus on core business processes. One such solution provider is, Emagia that aims at amplifying the efficiency and productivity of financial organizations. In a recent interview with Veena Gundavelli, CEO of Emagia, we discuss how their solutions advance global finance departments, shared services, customer financial services and how it is impacting the industry.
A Brief Sketch of the Company
Emagia is one of the fastest growing AI solution providers in the fintech and enterprise finance area addressing digital finance and digital treasury operations using the most innovative technologies around AI/ML, big data, robotic process automation (RPA) and cognitive computing. Emagia's mission is to maximize the financial performance of its customers by driving efficiency, precision and intelligence in finance operations with next generation technologies.
Delivering predictive and prescriptive analytic-driven automation to simplify customers financial operations is our main aim. Most recently Emagia introduced Gia, an enterprise digital finance assistant, a comprehensive and a secure AI platform, aimed to assist finance executives, finance operations staff in areas of credit, order entry, receivables, payables and treasury. Over the past decade, Emagia has been delivering a highly innovative order-to-cash (O2C) automation platform for global finance and F&A shared services. Emagia Enterprise Receivables Management Suite automates credit, receivables, collections, deductions, cash flow forecasting, cash application and billing, and payments for large global companies. With a proven track record as the receivables and payments platform of choice to various financial organizations around the world, Emagia has now established itself as a new generation AI-powered order-to-cash solutions company.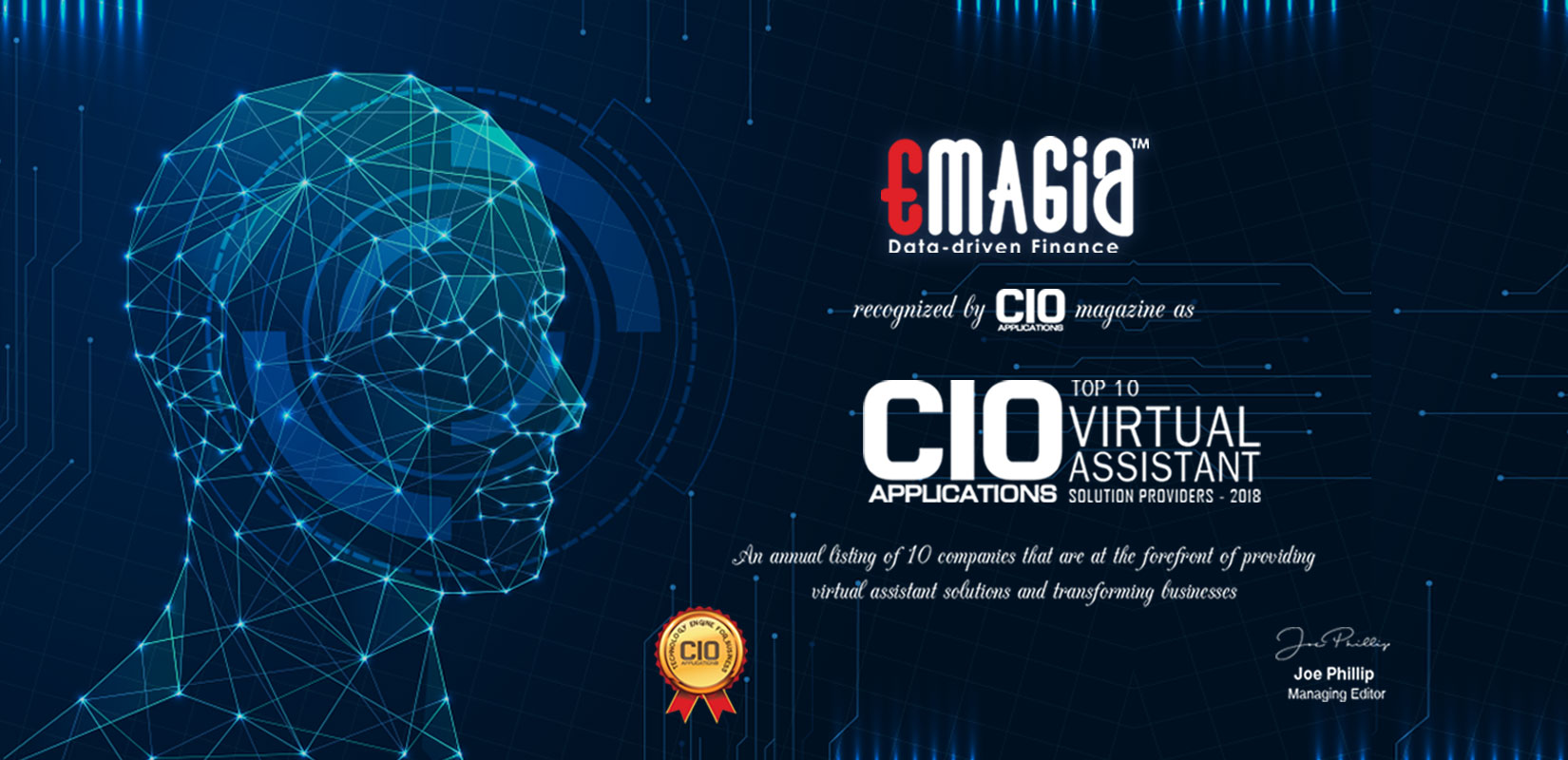 The Integration of Finance and AI: An Order-to-Cash Case study
The advent of AI and related digital innovations is transforming the way corporations are competing with each other and how they interact internally and externally. These changes are creating a demand for digital innovation and disruption in the enterprise finance world. Emagia's products bring out a whole new approach and innovation to the age-old finance operations problem with a unique and powerful combination of three components—human-like digital cognitive finance skilled assistants, human-in-the-loop digital process automation platform and advanced analytics hub with valuable insights guiding every step of the way to accelerate the customer-to-cash cycle exponentially. Emagia brings the power of digital and cognitive technologies to the finance departments, shared services and customer financial services to leapfrog them into the digital era. By using AI: cash application cycles can be reduced drastically; receivables and collections can be precisely targeted to individual customers; cash flow forecasting can be accurate in real time. The ability to read documents, perform tasks, and communicate to staff and customers with AI creates super-human efficiency leaving the humans to perform strategic tasks.
Finance departments need to get ready to embrace AI coming in many forms— automation, predictions and assistants. Intelligent selfdirecting platforms driving finance operations and self-learning digital finance assistants will be an integral part of finance departments of the future
With the help of AI, Emagia mines the data collected from inside as well as outside the enterprise and uses cognitive insights to help CFOs, controllers, and treasury departments to predict customer behavior and its impact on the overall cash flow. Lastly, we enhance digital customer engagement with the help of conversational AI that has the ability to converse like a human—a salesperson or customer service representative and interact with customers and internal stakeholders, helping them make quick decisions.
Emagia's Digital Finance Assistant-Gia
Gia is a cognitive machine equipped with human-like conversational skills and trained especially with finance operations knowledge that is available 24 X 7. Gia is like Apple's Siri or Amazon's Alexa but purpose-built for global finance organizations. Gia is currently shipping with skills needed for assisting finance executives such as CFOs, controllers, treasurers, shared services managers, vendors and sales personnel. Gia can perform order to cash operations such as credit, accounts receivables, collections, deductions, cash application and customer financial services. She is constantly updating her knowledge base through advanced machine and deep learning to provide enterprises with faster time to value. Customizing Gia according to the needs of the client is our key feature. Empowering the bot with the highest value skills first and then adding other elements to make assistance more efficient is how we keep Gia on a par with the industry needs. Today, Gia has internal enterprise skills as well as external ones such as sending e-mails, setting up reminders, and presenting news. It can present comprehensive conversational capabilities and reports from sources such as Experian and D&B. While integrating with the client's existing yet disparate systems, we leverage the API and then exchange information. The future of finance is a coexistence of both humans as well as cognitive assistants that can help perform financial operations in a faster way.
Customer Success Story
For one of our customers, a vineyard that sells wine to businesses across the globe, the onboarding of new customers involves several checks—validating credit information, business license, alcohol beverage license, third party credit report check, trade and bank reference checks. Calculating the credit score and taking the credit limit to approval cycle is a tedious task. This process typically takes days or sometimes weeks from start to finish delaying business decisions and revenues. With, Gia, the coordination between all the tasks and the decision-making processes becomes much faster and simpler. Similarly, for our other customers, Gia reaches out to their clients presenting invoices, collecting promises on payments and processing credit card payments online while engaging the customer in a digital experience.
A Peek into the Future of Emagia
Inspired by self-driving cars, we envision finance operations to be self-driven with intelligent bots and touchless transactions. Empowering our customers with the power of AI to transform to scalable and smart financial services to create an exponential impact on their businesses is our agenda. We aim to amplify the financial performance of our customers—global finance AR and treasury departments, shared services and BPOs, trade receivables and treasury services in banks— by driving productivity, accuracy and intelligence into their finance operations. We are striving hard toward bringing these novel digital solutions to corporate credit and receivables management. For the near future, we plan to grow our solutions for trade receivables in corporates, banking and treasury services in many industries and across the globe.