Emagia Corporation Amalgamation of digital and data-driven finance
Emagia Corporation's vision is to transform customers' entire C2C process into a cost-effective and customer-centric workflow by implementing digital and Al technologies.
Today every successful finance executive thinks of digital transformation as a tool to streamline processes, improve planning and decision-making. In a digital world, organizations are now looking to automate key finance functions like new customer on boarding, credit limit processing, order management, billing and invoicing, and receivables. For companies that have undergone a successful finance digital transformation, improvements in performance and efficiency have widely increased.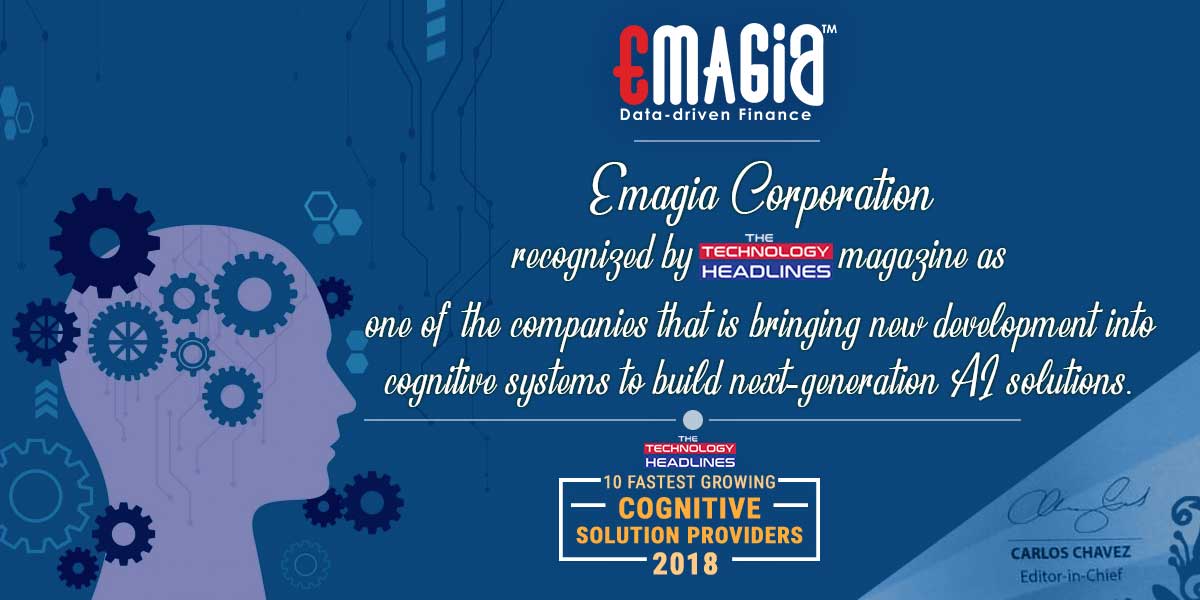 However, it is hard for finance departments of any company to make a radical shift from legacy systems to modern digital tools. This is what Emagia Corporation has set out to achieve as an experienced Enterprise Order-to-Cash Management (OTC) solutions provider. Emagia has laid a digital foundation for financial organizations to help them capture, integrate and analyze data with more reliable methods like predictive analytics, robotic process automation (RPA), Artificial Intelligence (AI), and machine learning.
In a competitive, fast-paced business environment, Emagia has shown the ability to provide enterprise-class pre-packaged business intelligence dashboards, visualizations, analysis and forecasting capabilities for managing the credit-to-cash cycle. Emagia has designed unique solutions capable of quickly and easily applied to age-old financial processes.
The company's main focus is to transform customers' entire C2C process into a cost-effective and customer-centric workflow by implementing digital and AI technologies.
The company has developed a powerful digital finance assistant, Gia, a cognitive learning machine with human-like conversational skills and trained especially with finance operations knowledge. Gia is like Apple Siri or Amazon Alexa but purpose-built for finance organizations. "Emagia's Gia is purpose-built to assist the CFO's and finance executives with their fingertips," shares Veena Gundavelli, Founder and CEO, Emagia.
Pushing beyond the limits of old financial systems, Emagia saw the need to bring out a whole new approach and innovation to drive real transformation. The company adopted a three-pronged approach to transform the finance function and add more value to the business. It created a digital cognitive finance skilled labor, human-in-the-loop digital process automation platform and advanced analytics hub with valuable insights to accelerate the customer-to-cash cycle. Finance operations especially credit and collections departments, typically deal with accessing information from multiple systems within the enterprise or outside the enterprise, often have to process paper documents and handle slow approval cycles from sales or customer service and others. Customer-to-cash process especially will get highly digitized with near-zero human touch for 80-90% of the transactions. Emagia has been continuously delivering the technology solutions to transform, automate and optimize receivables, credit, and collection processed to maximize cash flow.
Veena Gundavelli, says, "Improving cash flow, driving back-office efficiency and lowering operational cost has always been the focus of every finance department and shared service center. We deliver to our clients the skills and abilities essential to help them handle their C2C implementations and operations with more effectiveness."
Emagia Corporation has the vision to create breakthroughs in the finance world with Gia- Emagia's Digital Finance Assistant. Gia has been launched with the idea of bringing Artificial Intelligence, Automation and Analytics to Finance. With the help of Gia, the finance executives can get detailed reports and information at their fingertips. From assisting executives to take accurate decisions to complete a time-consuming operational task in next to no time, Gia proves to be the future of the digital workforce.
Emagia is leading a transformational change by introducing a full suite of powerful products, packed with cutting-edge digital technologies and order-to-cash expertise, able to boost the efficiency of order-to-cash processes. One of their top products, the 'Enterprise Receivables Management Suite' (ERMS), is a unified digital automation platform. ERMS has been made for financial organizations to transform, automate and optimize receivables, credit, collections, and cash application processes. It quickly maximizes its customers' cash flow processes and accelerates its customer-to-cash cycles.
By providing benefits to its customers in a very short span of time, Emagia has become a trusted business partner for their customers. Its professional team has deep domain expertise in back-end ERP system, cash flow process and the entire project management. Emagia also provides global support to end users and technical staff to ensure maximum adoption and results. This helps the Emagia to maximize its customer satisfaction, global adoption, and business value.
Because of her new ideas, contributions and outstanding leadership in the finance sector, Veena Gundavelli has been honored as the 'Innovator of the Year' at 2018 Women in IT Awards in the USA. "The purpose of our innovation is to create an exponential impact in the world of finance. I am a strong supporter of gender diversity and inclusivity in our global teams. We believe that differentiated ideas help our business to not only grow but also be relevant to our customers globally" said Veena Gundavelli. The founder of Emagia Corporation has been a driving force behind the company's continued innovation in the industry.
Emagia Corporation is on its way to bring new digital innovations to corporate credit and receivables management. Going forward, the company is also planning to expand its solutions for trade receivables in corporate, banking and treasury services in many industries across the world.