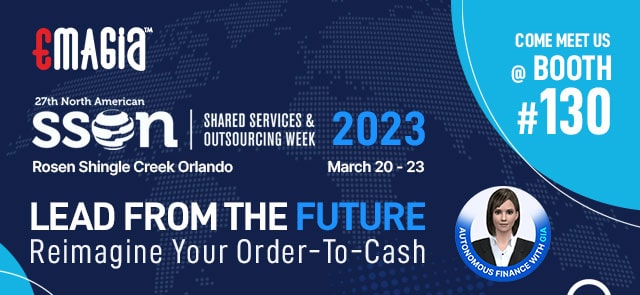 "Redefining success in 2023 and beyond" is the theme for this year's upcoming SSOW conference. As shared services evolve through AI, automation, digitization, the future of work, and a focus on process excellence, this SSOW conference is a great place for business services executives of global companies to get guidance on the latest trends and these areas of opportunity.
If you have Order-to-Cash transformation in your shared services priorities for 2023 and beyond, then come over and meet our Emagia Order-to-Cash transformation experts at booth #130. See the live demo of our cloud-based Autonomous Order-to-Cash Platform and learn how many shared service centers have redefined their Order-to-Cash operations for the future.
27th North American Shared Services and Outsourcing Week 2023, is an event organized by SSON, the World's largest shared services and outsourcing network with over 170,000 members worldwide.
Use the code SSOW23_Emagia to avail 20% discount on registration.
Join the event for free networking. Register now!
Leader in Autonomous Order-to-Cash Solutions for Shared Services and Global Business Services. Emagia brings the power of AI, Automation and Analytics to Order-to-Cash delivering exponential efficiency in credit, receivables, collections, deductions, cash application operations. Emagia is proud sponsor of SSOW 2023.