Emagia AI-powered Order-to-Cash Platform will be an integral part of WNS' Quote-to-Sustain Digital Finance Offering aimed for making global businesses future-ready in the age of AI
OCT. 6, 2020 – Santa Clara, CA: Emagia announced its strategic partnership with WNS (Holdings) Limited (NYSE: WNS), a leading provider of global Business Process Management (BPM) services. The partnership is aimed to accelerate digital transformation of order-to-cash in global enterprises through a comprehensive "Quote-to-Sustain offering".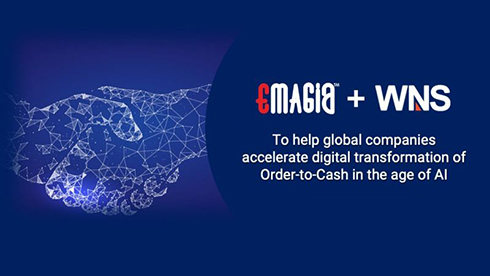 WNS' Quote-to-Sustain (QtS), a next-gen digital Finance & Accounting (F&A) offering will be powered by Emagia, and WNS' proprietary frameworks, platforms and other strategic third-party partnerships. This offering will enable CFOs to release working capital, minimize revenue loss and accelerate revenue recovery, reduce total cost of ownership and enhance customer retention. Emagia's next generation Digital Order-to-Cash Platform automates enterprise receivables and payments processes making them digital and touchless, for hyper efficiency. Powered by automation, analytics and AI this future-ready solution offers enterprises an integrated end-to-end solution for managing order release, credit risk, billing, receivables, collections, cash application and payments. It adds and augments finance operations with AI assistants and digital workforce that elevates the finance customer service experience to new levels needed for the digital and ecommerce era.
"Together, WNS and Emagia will help global companies re-imagine finance and the order-to-cash cycle for the digital age. We are excited about this partnership and the power it brings to deliver the AI advantage for many global businesses, " said Veena Gundavelli, CEO, Emagia.
"QtS has been created as a mission-critical offering for CFOs. This solution's capabilities are even more timely and relevant given today's business impacts from the global pandemic, and our clients' changing strategic requirements moving forward. Going beyond the traditional boundaries of the order-to-cash process, the core differentiation of the QtS offering is the scope expansion and automation of the cash collections cycle, and therefore, the ability to present a digital, comprehensive picture to the CFO," said Keshav R. Murugesh, Group CEO, WNS.
About Emagia
Emagia is a leading provider of digital order-to-cash automation solutions. Emagia offers a cloud-based AI-powered fintech platform for receivables and treasury aimed to modernize global finance operations for the digital age. Emagia brings together the trifecta of automation, analytics and AI to order-to-cash processes to help companies transform to highly efficient autonomous operations augmented by purpose-built order-to-cash digital workforce. Many companies around the world have achieved significant and sustainable improvements to their cash flow, credit risk, operational cost, compliance and profitability with Emagia solutions.
About WNS
WNS (Holdings) Limited (NYSE: WNS) is a leading Business Process Management (BPM) company. WNS combines deep industry knowledge with technology, analytics and process expertise to co-create innovative, digitally led transformational solutions with over 375 clients across various industries. WNS delivers an entire spectrum of BPM solutions including industry-specific offerings, customer interaction services, finance and accounting, human resources, procurement, and research and analytics to re-imagine the digital future of businesses. As of June 30, 2020, WNS had 43,422 professionals across 61 delivery centers worldwide including facilities in China, Costa Rica, India, the Philippines, Poland, Romania, South Africa, Spain, Sri Lanka, Turkey, the United Kingdom, and the United States. For more information, visit www.wns.com.
Connect with Emagia Corporation
Visit our website: www.emagia.com
Follow us on Twitter: @emagiacorp
Join us on Facebook: https://www.facebook.com/EmagiaCorporation
Follow us on LinkedIn: https://www.linkedin.com/company/36035/