Data-driven Finance for Highest Operational Efficiency
Descriptive, Predictive and Prescriptive Analytics
1. Bring all your finance data into a central repository
2. Understand customer payments behavior and other important patterns
3. Forecast
cash collection
4. Modify credit and collections Strategies

Data Mining
Advanced Statistical Techniques
and Machine Learning
Forecasts and
Variances
Share and
Publish Results
One of its Kind Hub of Prepackaged Analytics to Gain Insights to Achieve O2C Excellence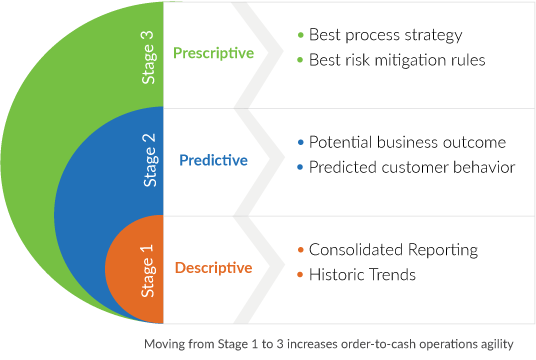 How can we get to real-time reports and dashboards on accounts receivables processes?
How comprehensively do we understand our O2C operations, revenue risk, cash flow and customers?
How confident are we that our credit and collections strategies are the best to drive optimal DSO and cash flow?
How can we drive optimal resource allocation for the best O2C operational efficiency?
How effectively does our finance organization understand the impact of O2C operational issues and changing customer payment behavior?
360 Degree Management Dashboards Reporting & Advanced Analytics

Key Performance Dashboards

Visual Dashboards AR for Shared Services

KPIs – DSO, DBT, CEI

Descriptive, prescriptive, predictive analytics

Aging analysis

Collections analysis

Payment term analysis

Disputes analysis

Cash Application analysis

Cash Forecasting analysis

DSO analysis

Top 10 past due customers

Top 10 disputing customers